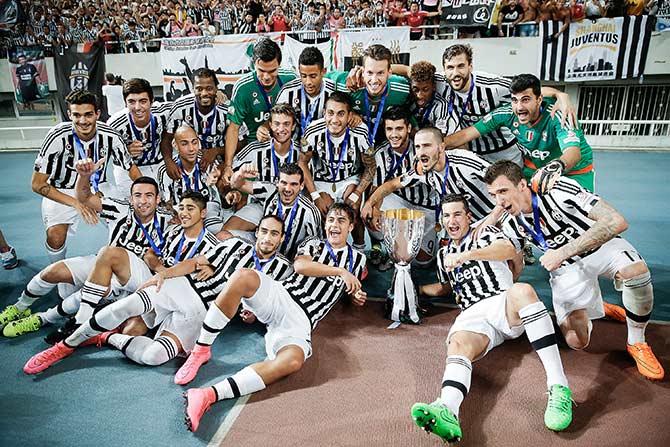 Players of Juventus celebrate the victory of Italian Super Cup final against Lazio at Shanghai Stadium. Photograph: Lintao Zhang/Getty Images
Italian double winners Juventus claimed their third Super Cup title in four seasons as new signings Mario Mandzukic and Paulo Dybala struck in the second half to secure their 2-0 win over Lazio in Shanghai on Saturday.
After a barren first half in the Serie A curtain raiser at the Shanghai Stadium, Juventus stepped up the attack after the break and were rewarded with Mandzukic and Dybala striking in the space of five minutes.
Lazio were the better team in the first half but Juventus created the first opportunity when Paul Pogba headed wide.
Early in the second half Mandzukic missed a one-on-one opportunity while Pogba's effort was narrowly off target.
Manduzkic, who joined Juventus from Atletico Madrid in June, could not be denied on the hour when he rose to meet a perfect cross from Stefano Sturaro.
The Croatia forward created the second goal too, darting down the right flank before clipping a cross which Pogba brought down and Argentine Dybala crashed into the roof of the net to secure the team's seventh Super Cup title.
"It's my first game with Juventus, scoring and winning has made it an unforgettable one," said the 21-year-old striker, who joined Juventus in June from fellow Serie A side Palermo.