'I had it coming'
'I competed, but not to win'
'I lost in 2009 and it was not the end. I lost in 2015, and it is not the end'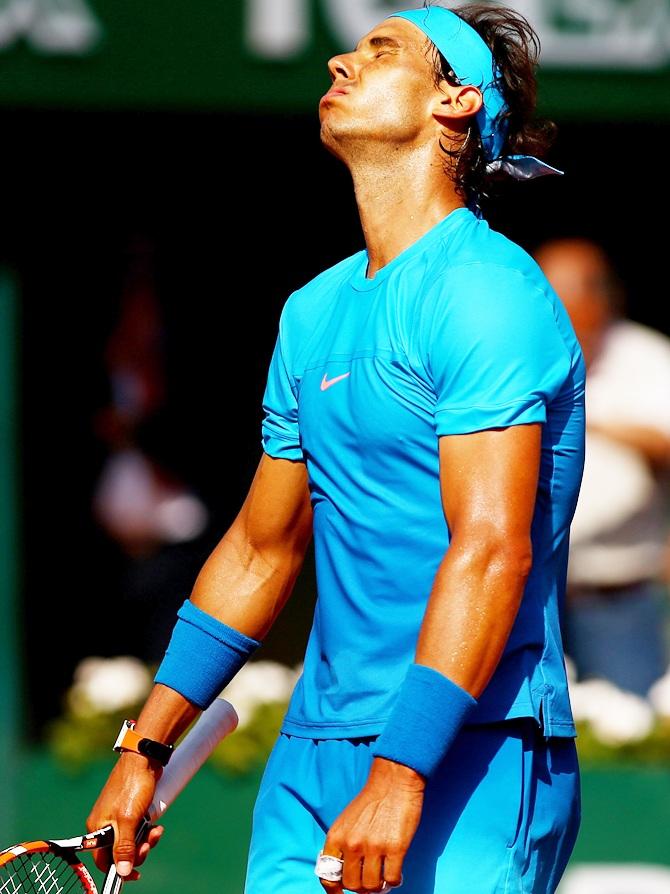 Spain's Rafael Nadal reacts in his men's quarter final match against Novak Djokovic. Photograph: Dan Istitene/Getty Images
It was only his second defeat in 11 years and 72 matches at Roland Garros, yet it came as little surprise for Rafael Nadal as the nine-time champion admitted he had his French Open quarter-final defeat to Novak Djokovic coming.
Djokovic gets seventh time lucky against Nadal at Roland Garros
The Spaniard lost 7-5, 6-3, 6-1, being overwhelmed in straight-sets by the World No 1 who is looking to clinch the only Grand Slam missing from his collection.
"It is not a big surprise, no, after a year when I didn't win enough before here. Something that could happen," Nadal said.
"When you see the draw, quarter-finals against Novak, obvious that it is early, a big match like that."
Nadal, whose only previous defeat at Roland Garros came in 2009 when he was knocked out in the fourth round by Swede Robin Soderling, arrived in Paris on the back of his worst claycourt season since his French Open debut in 2005.
For the first time he had not won a title on the slow surface in Europe in the lead-up to the second grand slam of the year.
Spain's Rafael Nadal walks to the net after he lost in men's quarter final match against Novak Djokovic. Photograph: Dan Istitene/Getty Images
He picked up momentum in the early rounds here, but could not deal with Djokovic, who is unbeaten on clay this season.
"I am happy with the way that I recovered my level the last month, but probably not enough yet to play against and to win against Novak. To play, yes. I competed, but not to win," Nadal, who turned 29 on Wednesday, explained.
"I lost in 2009 and it was not the end. I lost in 2015, and it is not the end. I hope to be back here the next year with another chance," Nadal said.
"When you play against an opponent that is winning almost every match like Novak and you are not playing consistently enough during the whole match, then it is an option that this thing can happen."
Nadal will now play the Stuttgart and Queen's tournaments as he gears up for Wimbledon, a tournament he has won twice although he has not made it past the last 16 in the past three years.