Neha Aggarwal, who was touted as one of the most promising talents in table tennis when she earned a berth in the 2008 Beijing Olympics, could not quite lived up to the expectations but the Delhi girl said that she was slowly getting her rhythm back.
Neha had shocked experienced Poulomi Ghatak and Mouma Das in 2008 to board the flight to Beijing but she failed to make a mark thereafter.
Ranked 430, Neha has shown remarkable improvement in her game in the past few months and was part of the squad that had oversees training session.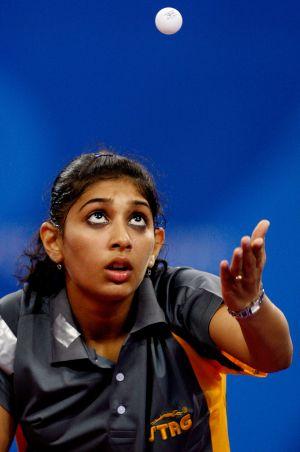 "The China training helped me a lot. I am fit and the rhythm is good. I hope I can help my side win medal in the championships," she said.
Neha partially redeemed herself after beating world no 91 from Singapore in a team event at the Championships.
Playing her second match of the team championships, she looked in fine touch and completely dominated in the match.
"I was meeting her for the first time and was excited to play against her. I played freely and gave my best," Neha said after beating Yihan Zhou 11-6 12-10, 7-11, 11-6.
"My services and anti (a technique to block spin) worked really well. My back hand was also good. I won lot of points on it," she added.
Although she has won in the sub-junior and junior nationals, the senior's championship title still eludes the Delhi girl, and the slump in form in the last two years meant that wasn't a regular in the national squad.
"The 2011 and half of 2012 was really bad for me. I was out of the Indian side. Injury to my lower back also didn't help.
"I have trained hard with my coach to get back into shape. The injury is also completely healed now," she said.
Photograph: Streeter Lecka/Getty Images