In a first for shooting, India's Angad Veer Singh Bajwa teamed up with Haley Dunn of the USA to claim the Grand Prix bronze medal in mixed team skeet event of the ISSF World Cup in New Delhi on Friday.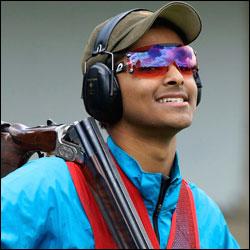 With the International Olympic Committee (IOC) firm on its stand to achieve gender equality in its 2020 Tokyo Olympics program, the unique concept of mixed event was tried out for the first time on a global stage.
This event saw a shooter from one country pair up with an athlete from another -- the first for the sport history at world level.
However, since it was a test event only, it will not be counted as official World Cup medals.
The duo of Hayden Stewart and triple Olympic champion and skeet legend Kimberly Rhode of the USA won the top prize in the event defeating Argentine siblings Federico and Melisa Gill 29-26 in the gold-medal match.
Angad and Haley got the better Robert Johnson and Caitlin Connor 28-26 in the bronze medal match at the Dr Karni Singh Shooting Range on the concluding day of the tournament.
Earlier, among the 22 pairings who entered the mixed team skeet event, six qualified for the semi-final round. They were clubbed into two groups of three pairs each. One pair was then eliminated on the basis of having the lowest score after 30 targets. The winner went through to the gold medal match while the second placed team made it to the bronze medal round.
Angad and Haley finished second in their group, shocking Italy's reigning Olympic champion pairing of Gabrielle Rossetti and Diana Bacosi.
In the bronze medal match, Angad was in sublime form, missing just one target out of his allotted 15 to easily beat the all-American pair of Johnson-Connor in partnership with Haley.
India, thus, ended its campaign with five medals – one gold, two silver and two bronze -- holding on their own in a tournament that was graced by some of the world's top shooters.
Additionally, the host nation also won Grand Prix gold in the mixed team 10m air pistol, besides Angad's bronze in the mixed team skeet.
"It was amazing. I enjoyed the experience," Angad, who took up the event only four years ago, said.
Asked if he was under pressure, Angad said, "What happens is if I start taking pressure in situations like that, it does not help. So I try to take this as a video game and enjoy."
About his plans ahead, he said, "We are going to Acupulco (for the next Shotgun World Cup) end of this month, got a camp coming up in another week or so. Good two to three days break now and then back to the grind."
Angad thanked Olympic Gold Quest for supporting him.
"OGQ has been a huge support last three years. They have been there for everything -- physios, financial part of it, the ammunition, it wouldn't have been possible without them." Summing up the outing in the season's first World Cup, he said, "I had a rough second day, I could have made it but I didn't have presence of mind that day. I corrected that today.
I have got a personal range set up in Chandigarh, the president has been very kind with this sport."
Asked about the growth of skeet shooting in India in the recent years, the young shooter added, "The belief part has really gone up now, which was not there earlier. When you are shooting with Kimberly you have to believe that you are better than her, if you don't believe you are better than her how can you beat her?
"Technically, (skeet coach) Ennio Falco really helped the team. I also looked after my fitness, my diet, mental side of the game, focused a lot on that," said Angad, who started out as a trap shooter before making the switch to skeet.
"I found trap boring, and skeet more challenging," he said.
Image: Angad Veer Singh Bajwa
Photograph: OGQ