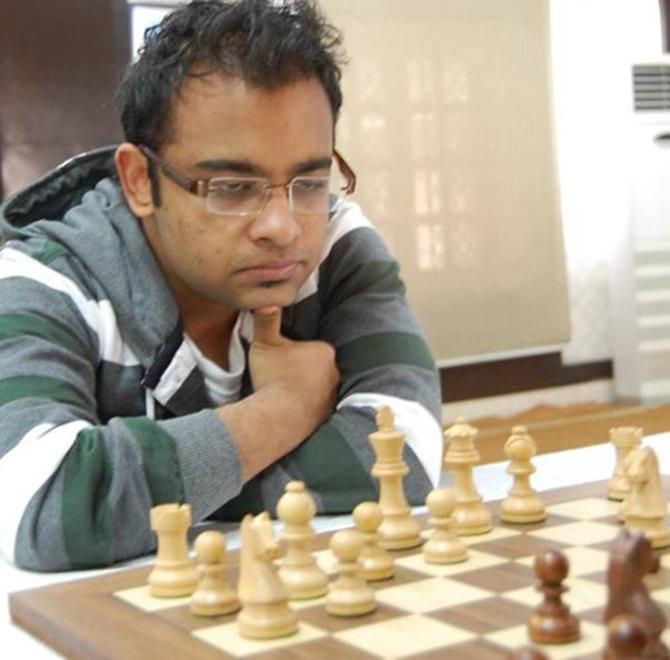 Viswanthan Anand got back into the reckoning by defeating compatriot M Shyam Sundar in a one-sided affair in the Isle of Man International chess tournament on Wednesday.
On a good day for Indians, former World junior champion Abhijeet Gupta tamed the highly-regarded Liem Le Quang of Vietnam.
It was expected after a couple of draws that things were only going to get better for Anand and he did not disappoint his fans in carving out a clinical victory over fellow-Chennai Grandmaster Shyam Sundar.
Anand faced the Schilemann gambit in the Ruy Lopez and did manage to get an early advantage in the middle game. Shyam Sundar was outplayed in all departments of the game.
Abhijeet Gupta dropped out of 2600 rating club but many, including world- class Grandmasters, agree that he actually belongs in top hundred simply due to his skills. The BPCL-employee gave a demonstration of why people believe in him in a subtle way, crushing Le Quang, who has been in top fifty for a while.
The opening was a pleasant surprise for Abhijeet as the Vietnamese GM went for the King pawn. The Classical Sicilian was where Le Quang had pinned his hopes on, but Gupta showed why he is amongst the best player in this one opening.
Le Quang was at his wits end when he entered the endgame, and Gupta remained in command till he pocketed the full point.
Meanwhile, Vidit Gujrathi, the second highest rated Indian in the fray, ended the dream run of R Praggnanandhaa with a technical masterpiece. Vidit was simply too much for the young gun, showing how the elites are better at their game.
B Adhiban did well to hold Wesley So of the United States to a draw at the top of the tables one a day when many found it surprising that Anand has taken a half-point bye in the next round.
Anand is the only Indian but not the only elite player to skip the fifth round as Vladimir Kramnik of Russia joins him in the list.
Abhijeet Gupta and Vidit Gujrathi will be locked in an all-Indian encounter on Thursday.
Amongst the Indian norm seekers, Eesha Karavade kept herself in contention for a GM norm drawing with Daniel Fridman of USA and Raunak Sadhwani held Aryan Tari of Norway to a draw to maintain a high average, that might mostly result in to a GM norm.