Brazilian football legend and FC Goa coach Zico has apologised to football fans of the state for failing to win the Indian Super League title but said that his team gave its all to win the tournament though unsuccessful in the end.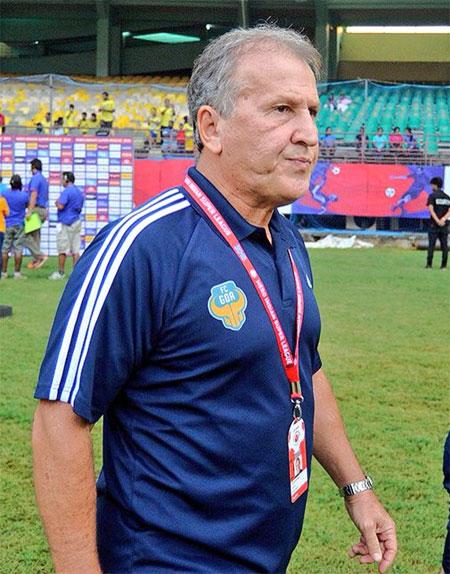 - PHOTOS: Mendoza stars as Chennaiyin FC clinch ISL 2 title
- Midnight drama unfolds after pulsating ISL final
- 'Wanted to show Elano that we Goans are not cowards'
FC Goa finished as runners-up after going down 2-3 to Chennaiyin FC in a thrilling summit clash at the Jawaharlal Nehru Stadium in Fatorda, Margao on Sunday.
"I regret that our dream did not come through. We would really like to give the title to all the children, the old people and all the people who have been supporting us. One thing we can be sure that we gave everything to reach this far," Zico said.
"If anything went wrong, I would like to apologise to everyone because the decisions were only mine and I take responsibility. Life goes on and I encourage the people of Goa to continue loving football," he added.
He thanked the team owners for the trust they showed to him and the support staff and the players for their hard work during the league.
"It's a very hard day for every one of us. It's one this day that I would thank the owners for all the trust in my work. I would like to thank all the players and the support staff for the hard work they put in and also especially the fans who showed us all the love," said the iconic Brazilian.
Asked if ISL would improve Indian football standard, Zico said, "Playing more foreigners is not going to help improve Indian football. Instead, we need to play more Indians if football has to grow."
"Last year, we saw Mandar Rao and Romeo giving good accounts and this year we had more Indians like Kattimani, Haokip and Victorino Fernandes giving good account."
Co-owner Dattaraj Salgaocar said, "I would like to thank all our fans for their wholehearted support in all the times. I would also like to thank coach Zico who has been outstanding along with the entire team who have really sacrificed a lot.
"I would like to thank our co-owners (Shrinivas Dempo, Virat Kohli and Venugopal Dhoot) and everybody else who have supported us in every kind of situation or crisis. We might have lost the final but won on every other possible aspect."
Co-owner Dempo said, "What I like about Zico is his passion to drive Goan youth to perform at international level. He has always gone on record saying that we should have more number of Indians in the team."
"We would love to have Zico with us for years to come. We have approached him officially and he is yet to decide about his association with us," Dempo revealed.
Image: FC Goa manager and Brazil football legend Zico
Photograph: FC Goa/Twitter