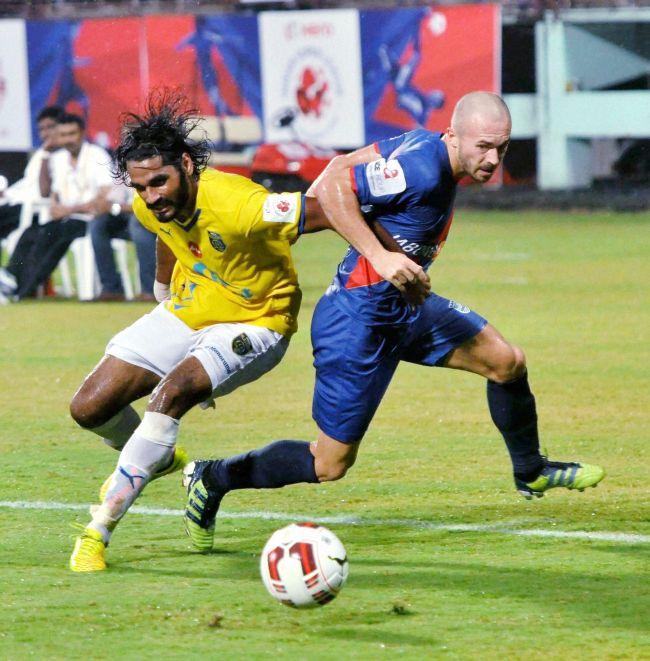 Kerala Blasters' Sandesh Jhingan battles for possession against Mumbai City FC's Jan Stohanzl during ISL game. Photograph: PTI
Kerala Blasters couldn't cash in on home advantage as they were played out a goalless draw with Mumbai City FC in an Indian Super League home match in Kochi.
The result meant that Mumbai were on fourth spot with 12 points from eight games while Kerala remained at sixth position with nine points from eight encounters.
With support of home crowd, Blasters should have logged home full points but India's premier goalkeeper Subrata Paul, who is one of the highest paid Indian players in league, came up with some good saves to help the Ranbeer Kapoor co-owned side leave with a point.
Paul, pulled off three saves for the 'Blue Brigade' including one in the eighth minute which was out of the top drawer.
The match was into its eighth minute, when Kerala's Milagres Gonsalves, who got the ball on the wide left and essayed a cross for Nigerian Penn Orji. The former East Bengal playmaker headed it on bounce which Paul dived full length to block it. From the rebound, Cedric Hengbart made another attempt which was again parried away by Paul.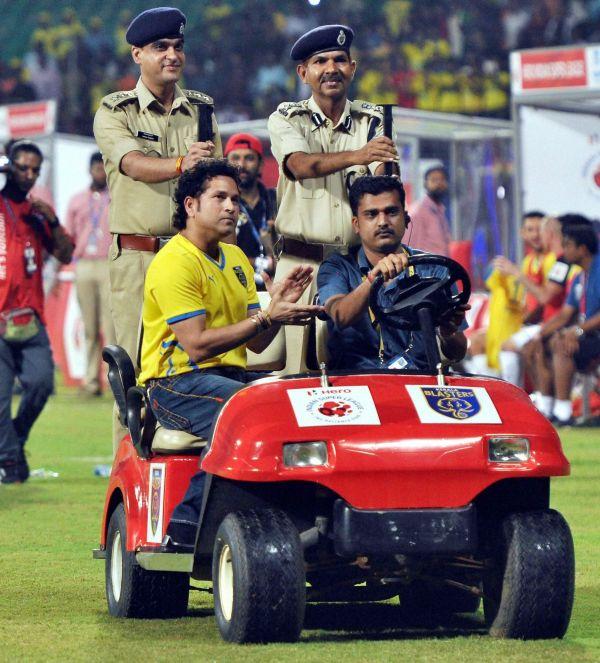 Kerala Blasters' co-owner Sachin Tendulkar takes a round of the ground. Photograph: PTI
In the 65th minute, Sabeeth kept a measured centre from the left side of the penalty box and Paul showed great anticipation as he tipped it over an emerging Milagres.
Paul's final save came during the dying moments of the match when he again dived full-stretched to deny Raphael Romey from heading it in after Stephen Pearson had delivered an accurate cross.
Nicholas Anelka was not in his element today although he essayed defence splitting pass in the 50th minute but Kerala captain and custodian David James averted the danger with a clearance.
The closest Mumbai came to scoring was in the 77th minute when Anelka's cross was cleared by left-back Saumik Dey outside the 6-yard box. Tiago's first-time shot came off the right vertical.