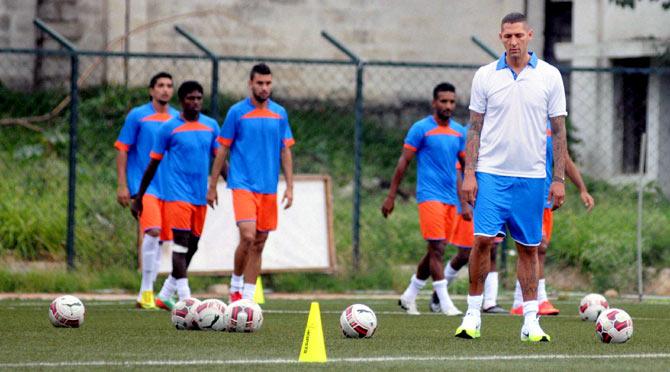 Marco Materazzi during a training session in Chennai. Photograph: PTI
Marco Materazzi's name will always be etched in our minds as the Italian defender who was infamously headbutted by Zinedine Zidane in the 2006 World Cup final.
It is sad to know that though he won the World Cup, UEFA Champions League, four Coppa Italia titles and the Supercoppa Italiana four times, he will always be known as the rough defender who instigated the French legend into headbutting him on his chest.
Now, he is hoping to change that perception in India, at least.
Playing the dual role of player-manager for Chennaiyin FC in the Hero Indian Super League, he is making the right moves, as a result of which his team sits pretty atop the table.
For someone who loves to play aggressive football, and with the mind, Materazzi, at the touchline, is a calm manager. He mostly stands silently at the edge of the technical area, arms folded across his chest, and doesn't yell nor remonstrate, occasionally passing on instructions.
This Materazzi is nothing one could identify with a man who was physically intimidating on the pitch during his playing days.
In an exclusive chat with Rediff.com's Laxmi Negi, the Italian ace throws light on his team's rise in the ISL and the camaraderie among his players.
Your team was one of the last to be formalised. Today it stands at the top of the table. Your thoughts on that.
The reason behind it is that we are like a family. There is a great understanding between Indians and foreigners. Everybody is treated equally, with respect. Our franchise was formed at the very last, so because of that many people thought we would be the last team. But after a good start everybody has started to take us seriously. The target will, of course, be to be crowned champions on December 20.
A cricket-crazy country has received the ISL with open arms. You think it will sustain, or is it just the initial hype-building?
I always felt India has potential in football. The huge amount of interest in the ISL proves it. ISL will not change Indian football overnight; it will only make it better with time. There is plenty of scope for football to co-exist in a big way with cricket.
In India, for one to succeed, the perfect formula is cricket and Bollywood. Your team has both: Mahendra Singh Dhoni and Abhishek Bachchan. Is it one of the reason why you enjoy such huge fan-following?
They are very important. The best thing about them and our other co-owner, Mrs Vita Dani, is that they don't interfere with my work. But our good results and quality of play have also been important in creating a fan-following.
We read about how the rains halted your training sessions. Yet your team has bounced back. What is the secret?
We haven't trained enough in the main stadium in Chennai because of the weather. Something like that is unavoidable, no point complaining about it.
You started as a manager and then went on to play. Was it hard to stand at the touchline shouting instructions?
I am enjoying it. I like the company of all the players and staff. The league is only for three months, so in some ways it is like the World Cup, as you stay together and do a lot of travelling between games. I have a very good group and they are happy to work with me.
Your team has secured a semi-finals berth. Are you saving yourself for the latter stages of the competition?
I will play whenever required. We have 30 thousand-odd fans who turn up every game to support us. We cannot disappoint them.
Elano Blumer! The more we talk about him the better he gets. Most of the known names have flopped in ISL, but he is outstanding. What makes him a success? (Elano, with eight goals, is the top goal scorer in the ISL)
Elano was in Brazil for rest and treatment. Since he is back I want him in the best shape possible, playing with the same form which he had been showing before the injury. He is very humble and hard-working.