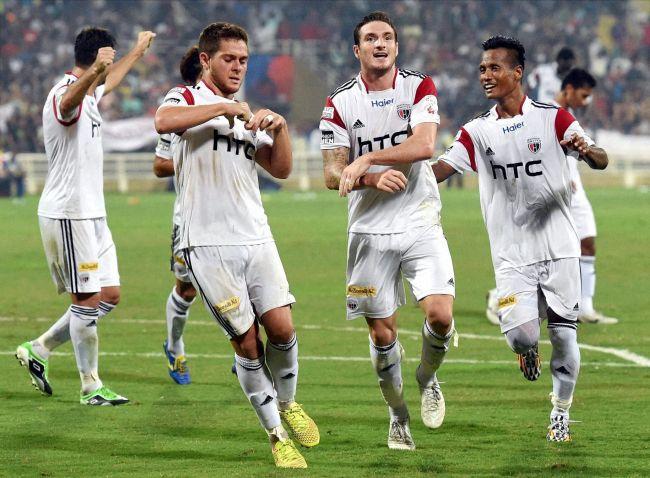 Michael Keene celebrates with teammates after scoring. Photograph: PTI
Following their 2-0 win over nine-member Mumbai City FC in the Indian Super League game at the DY Patil Stadium in Navi Mumbai, NorthEast United FC's head coach Ricki Herbert said he was disappointed that his team couldn't defeat their under-strength opponents by a bigger margin.
"It's not good to see only 8-9 players on the field, but it was not my call. It was disappointing that we did not score at least two more goals," Herbert said.
Mumbai were reduced to nine men following a freakish hamstring injury to marquee player and second-half substitute Fredrik Ljungberg in the 73rd minute and a double booking for centre-back Pavel Cmovs.
The former New Zealand national coach, however, said his team looked a better side after the first half.
"It was tough for us in the first 45 minutes and Mumbai are also a huge side who were playing at home and had won 5-0 (against FC Pune City). But at the end of the day, we were probably the better side. There is still a lot of work to do though," said Herbert.
With this victory, NorthEast United FC have now moved to second spot in the table behind leaders Athetico de Kolkata.
The coach also praised goalkeeper T P Rehenesh, who hails from Kerala, and said it was important to retain confidence in him after he had made a few errors in the previous game.
"It was important to give him that confidence and he did well today, was good in cutting off crosses," said Herbert.
Herbert insisted that one of the main goals of the tournament was to see the Indian players grow in stature and for that he said he would take whatever decisions necessary even if it means losing a couple of games.
Herbert heaped praise on Brazilian midfielder Felipe de Castro, who notched the team's second goal, and predicted he would be one of the finest midfielders to be seen in the ISL at the end of the tournament.
On Koke, Herbert said, "I was tempted not to play him today. He's played in three games in six days. But he's a good player, is a big influence and can win games. I took him off as a precaution."
The team, in all likelihood, will be without the services of Zambian Isaac Chansa in the next game.
"He's (Chansa) got a knee problem. He's doubtful for (match against) Delhi (Dynamos on October 29)," the coach said.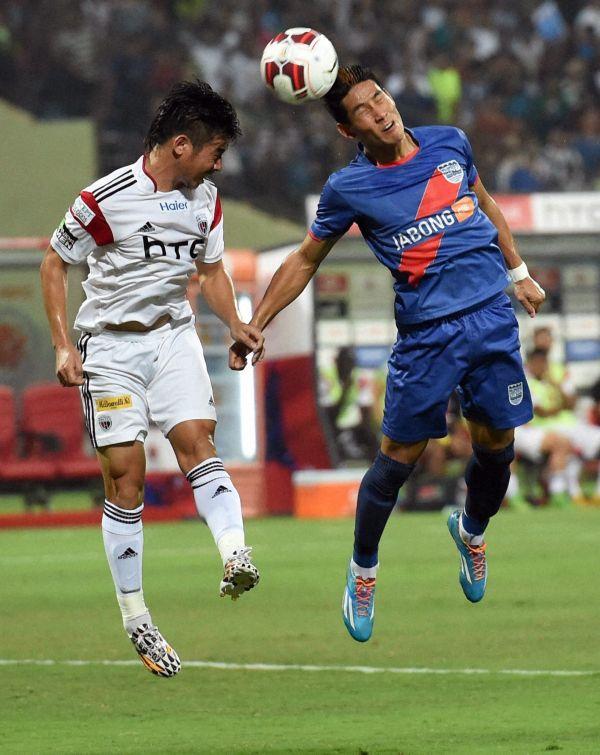 Mumbai City FC and NorthEast United players vie for ball. Photograph: PTI
Mumbai's head coach Peter Reid, meanwhile, took the defeat in his stride and said that the team will bounce back though they will be without Ljungberg, whose injury he said was "difficult" (to heal quickly), and Pavel (for the next away game against Chennaiyin on October 28).
"A lot of things conspired to go against us today. But I make no excuses, NorthEast United deserved to win," said the Englishman.
"When you end up with nine men, it's always going to be difficult and tough. I've got no complaints against the referee. We made rash tackles today and paid the penalty. Freddie's hamstring is gone and with my experience in football, tears in hamstrings are very difficult injuries and I don't think it is good for us.
"There are the ups and downs in the game. I am confident that we will fight back in the upcoming games. We are looking forward to Chennai, and looking forward to a strong show," said Reid.
The Mumbai outfit has had a mixed tournament so far, losing 0-3 to Kolkata in the first game and then bouncing back to thump Pune 5-0 in their earlier game here.
Reid pointed out that the team will be having the services of former France international Nicolas Anelka, who has served a three-match ban for a controversial and 'racist' hand gesture after scoring a goal in December last year, and the side's regular skipper Syed Rahim Nabi.
Reid said he was happy with Brazilian hat-trick man (against Pune) Andre Moritz playing for 45 minutes even though he was injured.
Moritz, who was hospitalised after a fall in his hotel bathroom, had himself volunteered to play, said Reid.
"He was happy to play for 45 minutes. He wasn't as explosive as he was earlier, but he did a good job for us," the former Manchester City manager said.
"We didn't play well today, we didn't work their keeper, we didn't create enough (chances), our passing was not incisive. I thought we were a little bit impatient in the penalty area, whereas they were well-organised. They dropped back and they made it difficult; we just didn't have the patience.
"Their two centre-backs, they are very experienced players, and then they tightened up the midfield and made it difficult for us," he said describing the match in a nutshell.
But Reid praised his team for keeping their rivals at bay in the last quarter of an hour with only nine on the field.
"I know that we've been beaten 2-0 but the nine men on the pitch, they gave everything. I couldn't have asked for more."