Indian Super League franchise NorthEast United FC (NEUFC) co-owner John Abraham expressed optimism that the country's ranking in international football would go up to "double digit" from the current 159th position in the next seven years.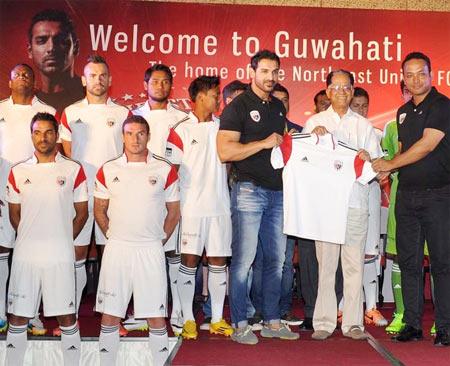 The Bollywood star said the ISL would play a very crucial role in overall development of Indian players.
"I think in the next seven years, Indian football will develop a lot. I strongly feel that the world ranking of India will go up to double digits from what it is now," Abraham said in Guwahati.
India share the 159th position with Puerto Rico in the FIFA rankings at present.
"In the next three years, we'll have superstars from India and more importantly from the North East. NEUFC's vision is to develop Indian, primarily north eastern players," he said.
Talking about his own team's performance during the first session of the ISL, Abraham said he was disappointed with the fact that players could not convert opportunities into goals.
"We have not been able to finish despite playing well so far in the tournament. In the eight games so far, we played bad only once against FC Pune City in Pune...I hope we'll not let you down. If you ask anyone in India, everyone will say we have played the most exciting game," he said.
Abraham, who was speaking on the occasion of announcing his team's tie up with Guwahati-based Concept Educations as an associate sponsor, said NEUFC had some of the youngest players of the tournament and the team would be a very strong one after three years.
"We are still a better team compared to the number four. We have been playing good game, but only problem is with finishing... We need to improve... We have good chances to win," Abraham said.
He said the team's striker was out even before the start of the tournament due to knee injury and his side was playing with limitations.
NEUFC is at fifth position in ISL table with 10 points, while Mumbai City FC is at fourth place with 11 points.
Abraham also said NEUFC would be the first team to break even in ISL that has a gestation period of three years.
"All other ISL teams are corporate backed and probably only our team is not backed by any corporate. Still, NEUFC is commercially the most viable team," he added.
NorthEast United FC, which is co-owned by I-League club Shillong Lajong along with Abraham, is based out of Guwahati.
Image: ISL-Co-Owner of Northeast United Football Club John Abraham and Assam Chief Minister Tarun Gogoi during the inaugural ceremony of the team jersey in Guwahati.
Photograph: Reba kumar Borah