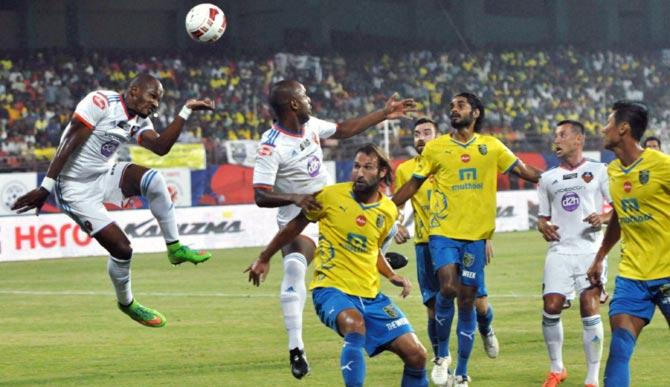 The Indian Super League match between Kerala Blasters and FC Goa in Kochi. Photograph: PTI
Cricket-obsessed India will embrace soccer like the rest of the world and the Indian Super League (ISL) could one day rival the sport's biggest competitions for popularity, cricketing great Sachin Tendulkar said on Friday.

The ISL launched in India last month and has so far attracted a host of notable names from European soccer, including former Arsenal midfielder Robert Pires and Italian World Cup winners Alessandro Del Piero and Marco Materazzi.
- Playing It my Way: Buy the book right here on Rediff

Tendulkar, who is the leading run-scorer in Test history, co-owns the Kerala Blasters team which compete in the league and are managed by former England goalkeeper David James.

The diminutive batsmen believes that the game might one day emulate the national sport of cricket in his homeland.

"Football is definitely not as big as cricket in India but I see football getting really big in time to come," Tendulkar told a news conference in London on Friday.

"The response for the ISL has been incredible. People want to support football and football players in India and make it a big sport.

"Internationally the sport is really, really big. India has all the potential to make football as big as anywhere else in the world. But it's not going to happen overnight. It's going to require a mega effort.

"That's what we trying to do -- to give the players a platform to realise their dream. There's nothing better than scoring a goal or you play good football and the entire world is appreciating your talent," he added.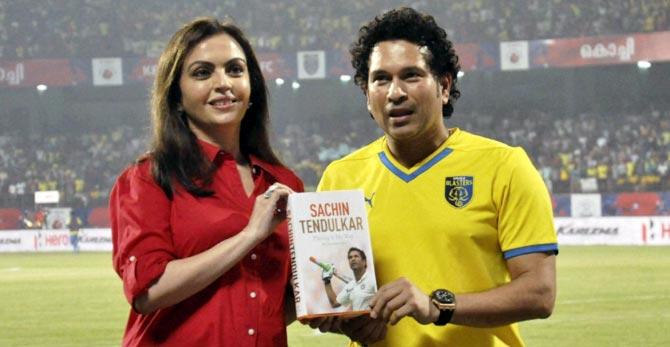 Sachin Tendulkar (right) with Nita Ambani. Photograph: PTI
Tendulkar was speaking at the launch of his autobiography Playing It My Way at Lord's cricket ground, having flown to London on Friday morning after attending the Blasters' 1-0 home win against FC Goa in Delhi the previous night.

He enthused about the atmosphere at the league game and so far the ISL's mix of celebrity owners and high-profile players has attracted large crowds, and the gaze of the world's media, during its inaugural season.

The league, which is bankrolled by India's Reliance Industries, Rupert Murdoch's Star India and sports management group IMG, has further links with cricket as Tendulkar's former team mate Sourav Ganguly and current India captain Mahendra Singh Dhoni also own ISL franchised clubs.