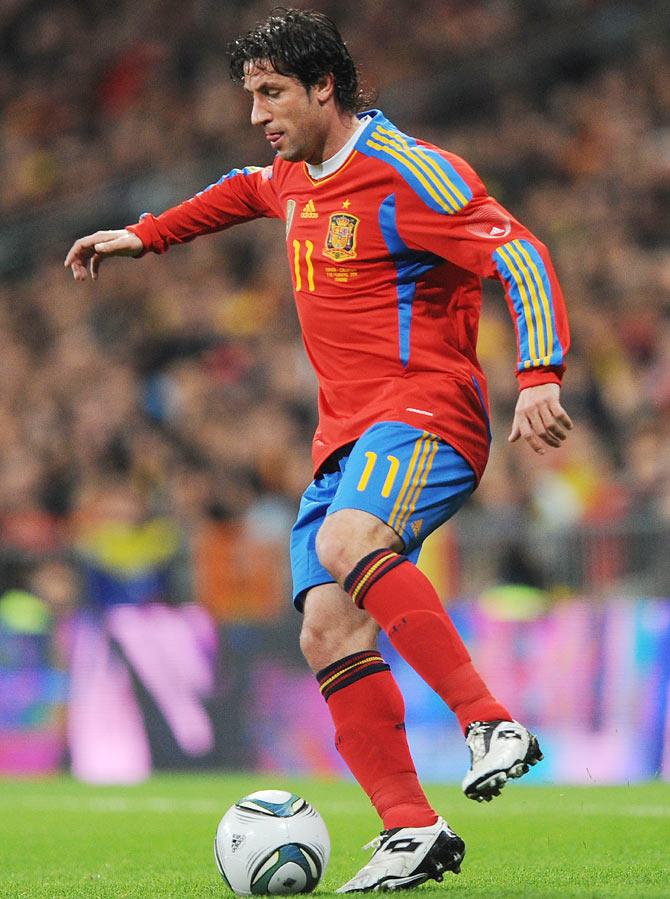 Joan Capdevila of Spain. Photograph: Denis Doyle/Getty Images
Former world champions Spain will have to wait to regain their past glory but they need not discard their attractive brand of football that earned them fans and laurels, World Cup-winning defender Joan Capdevila told Reuters in an interview.
Spain's golden spell during which they won the 2010 World Cup and European titles in 2008 and 2012 came to an embarrassing end in Brazil this year when they crashed out of the World Cup after losing their first two games against the Netherlands and Chile.
The debacle was followed by the international retirement of ageing stalwarts such as Xavi and Xabi Alonso, which will severely test the next generation of players in the lead-up to the Euro 2016.
"It's time for change and bring in some new players," Capdevila, who was part of the winning sides in Euro 2008 and the World Cup in South Africa two years later, told Reuters through an interpreter.
"I hope Spain is at their highest level again from tomorrow but honestly it's going to take longer.
'I will be surprised if (coach) Vicente del Bosque can now change their style of play'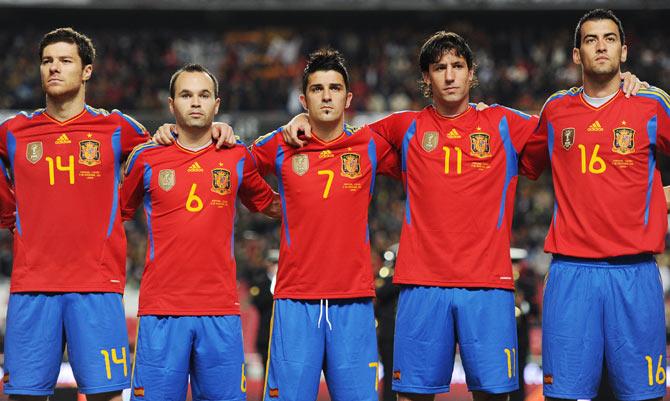 (Left-Right) Xabi Alonso, Andres Iniesta, David Villa, Joan Capdevila and Sergio Busquets of Spain. Photograph: Jasper Juinen/Getty Images
"For the next Euro Cup it is going to be difficult but I hope to see them challenging again for the 2018 World Cup. But I am not sure yet as the players are very young," said the 36-year-old, who has signed for the North East United FC as a marquee player for the upcoming Indian Super League (ISL).
Spain's tiki-taka style, which took the world by storm during their golden period, has come under heavy scrutiny but Capdevila, who had 60 caps for the country, fiercely defended the possession-based style.
"The style of playing for Spain is going to be the same, just the players are going to change," the left back said.
"It has been the style for many, many years and I will be surprised if (coach) Vicente del Bosque can now change their style of play."
The recent success of his former club Atletico Madrid pleased Capdevila, who has played over 400 games in the La Liga.
'Though Atletico won the league, Spanish football is still about two big-budget teams'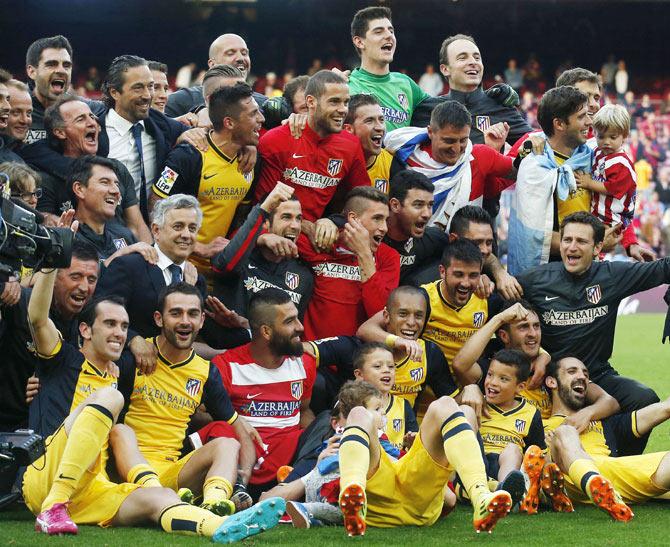 Atletico Madrid players celebrate after winning the Spanish first division title. Photograph: Albert Gea/Reuters
Last season, Atletico became the first team since Valencia in 2004 to knock Real and Barca from top spot, breathing new life into the La Liga that had become a two-horse race with Barcelona and Real Madrid.
Atletico won the Spanish league title for the first time in 18 years last year and were losing finalists to Real in the Champions League.
"The more competition, the better for the Spanish league. Though Atletico won the league last year, Spanish football is still about two teams since their budget is huge," Capdevila said.
"I hope Atletico spends a lot of time at the top and some more teams join them.
"But I can see Madrid and Barcelona bouncing back to have a grasp on the league in the near future."
'What India needs is grass-root development to grow into a footballing nation'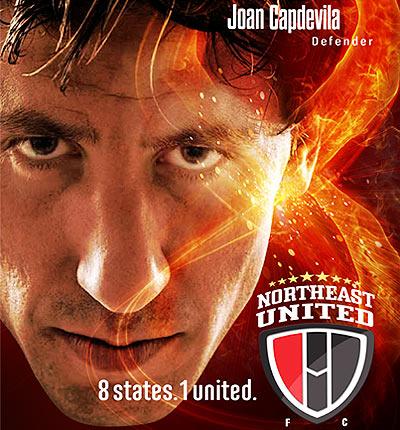 Joan Capdevila on a North East United FC's poster. Photograph: NorthEast United FC Fans/Facebook
Capdevila has joined fellow Spaniard Luis Garcia, 2006 World Cup winners Alessandro Del Piero and Marco Materazzi, former France and Juventus striker David Trezeguet and compatriot Robert Pires in the ISL.
Bankrolled by Reliance Industries, controlled by the country's richest man Mukesh Ambani, Rupert Murdoch's Star India and sports management group IMG, the league with celebrity owners is scheduled to run from Oct. 12 to Dec. 20.
India, a cricket-mad country of 1.2 billion that currently ranks an embarrassing 158th in FIFA order, needs grass-root development, Capdevila said.
"The ISL is a good start. Two and half months is not enough time so it will be better if the period of the league is increased to like nine months in future.
"It's a new baby but what India needs is grass-root development to grow into a footballing nation."