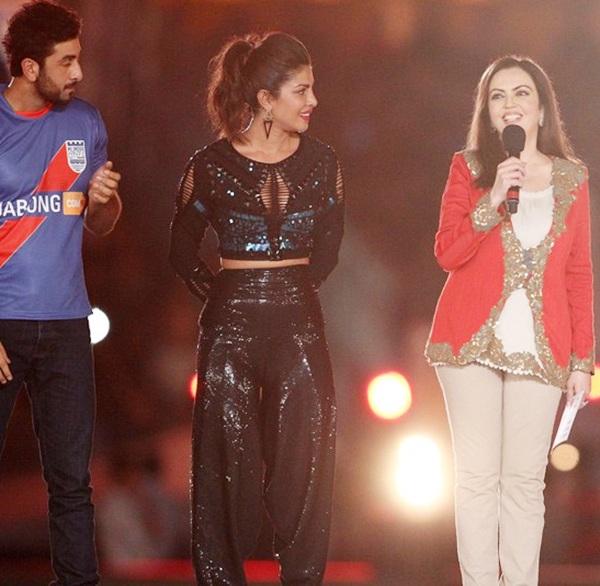 Ranbir Kapoor, Priyanka Chopra and Nita Ambani during the ISL opening ceremony. Photograph: PTI
After watching his first football match at an Indian stadium, Bollywood star Ranbir Kapoor described the atmosphere during the lung opener of the Indian Super League, in Kolkata, as "fantastic", adding it matched that of top international games.
Kolkata drub Mumbai 3-0 in a spectacular ISL opening night
Indian Super League kicks off with glittering ceremony
"The atmosphere was very good. I have never seen a football match in India, and here the atmosphere was just fantastic. It is as good as what is seen in matches of top international clubs, like Barcelona, Madrid, etc. I have been to those matches and seen that," said Kapoor, after his team, Mumbai FC, lost to Atletico de Kolkata 0-3.
He said it would be good if the matches in Mumbai have even one-fourth of the atmosphere the Sunday night's match in Kolkata had.
Asked how the ISL is shaping up, Kapoor replied, "It is a virgin territory for all of us. We do not know how it is going to shape up like".
Atletico de Kolkata want more support from fans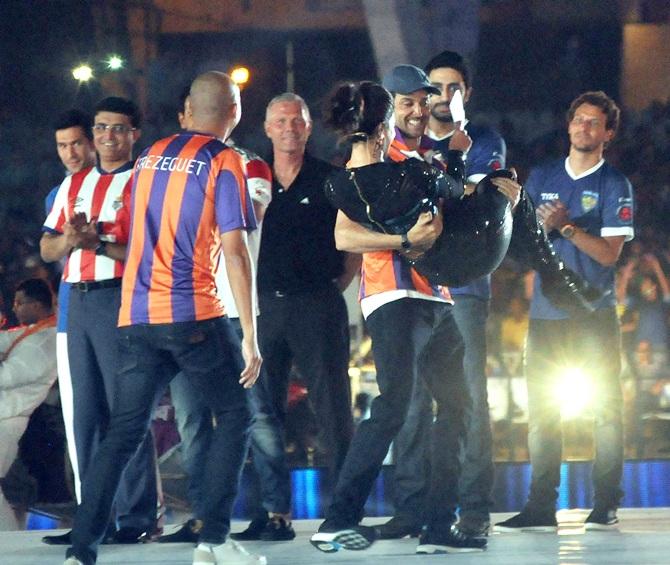 Hrithik Roshan and Priyanka Chopra during the ISL opening ceremony. Photograph: PTI
Atletico de Kolkata were not short on support in their first outing, but manager Antonio Habas said he would like to see more fans rooting for the team as the tournament progresses.
"I am very happy with the (fans') support. We need more support in the next games. My team had the belief in themselves," Habas said.
Hailing the team that has a distinctive Spanish flavour in short passing skills, Habas said, "They all played fantastic football. My team had the belief in ourselves. We're always persistent."
Asked to compare the standard in football with Atletico Kolkata and their partners, La Liga giants Atletico Madrid, he quipped: "I don't want to compare sitting 80,000kms away from Atletico Madrid."
Impressing one and all, the Kolkata side dominated proceedings from the start, with Borja Fernandez winning the 'Hero of the match' award for his stunning volley, which made the scoreline 2-0 in the second-half.
Fikru Teferra, who scored the first goal of the ISL to give Kolkata the lead in the 27th minute, won award for the 'Moment of the Match', while goalkeeper Subhasish Roy Chowdhury was adjudged Emerging Player.
Nabi doubtful for Mumbai's second fixture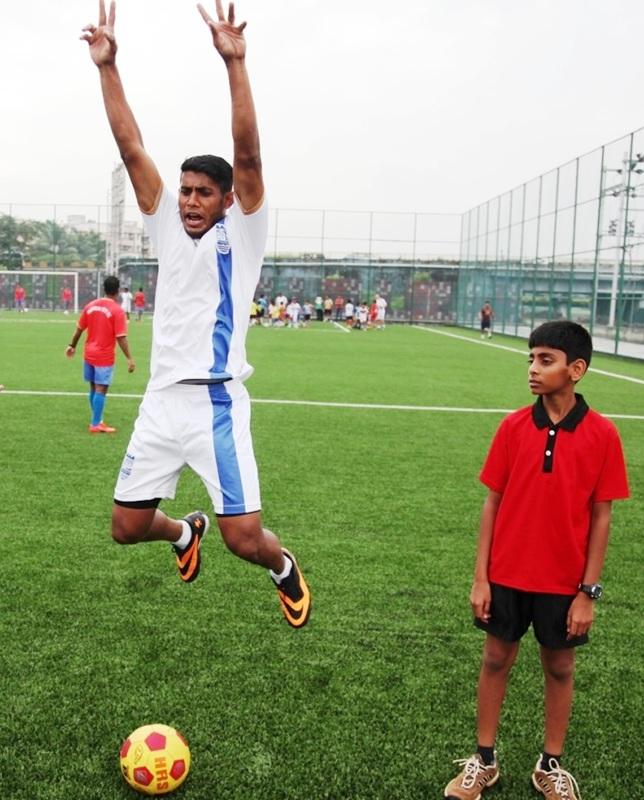 Syed Rahim Nabi during a training session. Photograph: Mumbai City FC
Mumbai City FC captain Syed Rahim Nabi is doubtful for the team's next ISL fixture against Pune City FC after sustaining an ankle injury during the opening match against Atletico de Kolkata.
Nabi was stretchered off after injuring his ankle and replaced by Nadong Bhutia in the 38th minute.
"We are going to get X-ray done. We will see how it goes. I think we will know later, maybe tomorrow. We will take a call in the next coming days," said manager Peter Reid about Nabi, who was been hospitalised.
Nabi made a bad tackle in the second minute and got the first booking of the ISL.