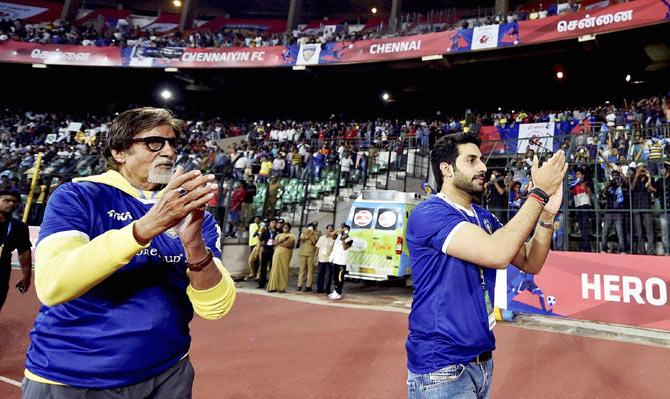 Chennaiyin FC co-owner Abhishek Bachchan (right) and father Amitabh Bachchan celebrate after Indian Super League match between Chennaiyin FC and Kerala Blasters FC in Chennai on Tuesday. Photograph: PTI
Bollywood megastar Amitabh Bachchan is hopeful that a tournament like the Indian Super League can help increase the popularity and growth of football in the country.
"I do believe that this shall gradually grow into a most interesting and captivating sport in the years to come..." the 72-year-old wrote in his blog.
Bachchan Sr's actor son Abhishek is part owner of ChennaiyinFC, a club fielded in the ISL.
Bachchan then shared his joy at ChennaiyinFC's win over Kerala Blasters during an ISL match on Tuesday.
"In distinguished company of, Rajnikanth and Sachin, and the glory of victory by our team ChennaiyinFC has added that extra zing in our moods and in our steps. The Chennai cheers have been astounding and welcome, the football fever catches on gradually and the enthusiasm shows.." he wrote.
"WE WON ... !! Thank you Chennai .. you were marvellous ! And the team excellent ! Thank you Rajnikanth for coming to cheer our team," he later tweeted.