'I have come as close as possible to him, as nobody has before'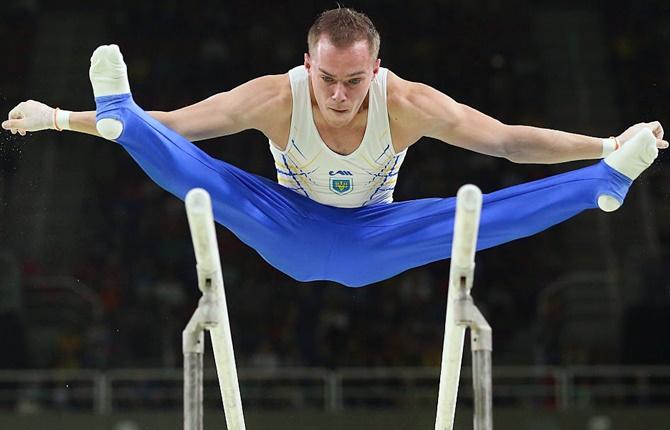 IMAGE: Oleg Verniaiev of Ukraine competes on the parallel bars during the Men's Individual All-Around final on Day 5 of the Rio 2016 Olympic Games. Photograph: Alex Livesey/Getty Images.
Ukranian Oleg Verniaiev nearly dethroned the man he calls 'the king of gymnastics' on Wednesday, coming within a razor's edge of denying Japan's Kohei Uchimura a second straight Olympic gold medal in men's all around gymnastics.
Uchimura wins gold, first all around gymnast in 44 years to do an encore
Though Uchimura's high bar routine sealed victory, the final scoreboard showed him beating Verniaiev by just 0.099 points.
That was the narrowest margin of victory for the 27-year-old Japanese gymnast since he began dominating the all-around event in 2009, when he won the first of his record six successive world titles.
Verniaiev's failure to win gold may even have come down to a small hop on his dismount from the high bar, where he was competing last.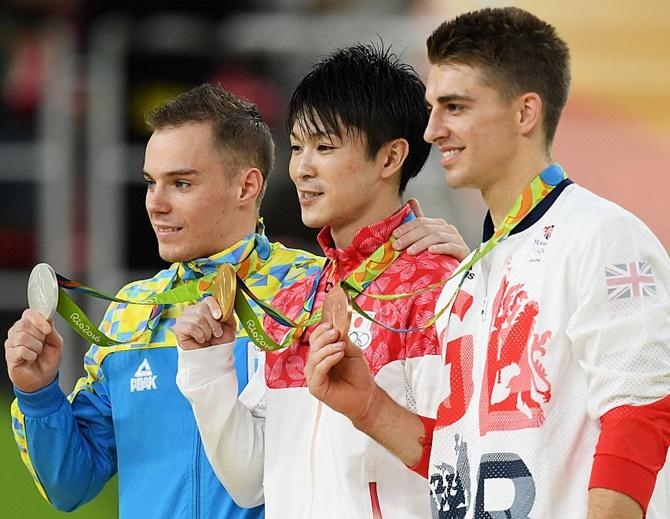 IMAGE: From left, silver medalist Oleg Verniaiev of Ukraine, gold medalist Kohei Uchimura of Japan and bronze medalist Max Whitlock of Great Britain pose for photographs at the medal ceremony for the Men's Individual All-Around on Day 5 of the Rio 2016 Olympic Games. Photograph: Matthias Hangst/Getty Images.
In a tense moment as Verniaiev waited for his score, he thought he might have edged out his Japanese rival.
"I hoped, and I can't say I didn't think about it," he told reporters. "But it didn't go that way."
Ultimately, Uchimura deserved the gold, the 22-year-old Ukranian said.
"I have come as close as possible to him, as nobody has before," he said. "He's the Michael Phelps of gymnastics."
Uchimura's victory marked the first time in 44 years a gymnast had won all around gold at two consecutive Games, though he said he expected a new crop of younger gymnasts, led by Verniaiev, to surpass him soon.
"I really have no confidence that I will be able to beat Oleg (in the future)," Uchimura said.
Verniaiev, the European champion in the all around event and the 2014 world champion on the parallel bars, said he was flattered by the comment.
"I'm quite happy that I managed to make Kohei very nervous," he said. "We'll be preparing for next time."
Verniaiev trailed in sixth after his opening performance on Wednesday, in the floor exercise. By the time he finished on the rings, the third of six rotations, he was top of the pile.
Ahead of the final apparatus, the high bar, he held a lead of 0.901.
But Uchimura enticed the crowd and the judges with a high risk-high reward program that included four release-and-catch moves.
That left no room for even the slightest of wobbles when Verniaiev's turn came. He chose a routine with less 'wow factor'. He had not trained for a more difficult routine.
"I felt it was too risky to try one," said Verniaiev.