Like his great rival Cristiano Ronaldo, who switched from Real Madrid to Juventus two years ago, Lionel Messi could also seek a fresh challenge in the last leg of his career.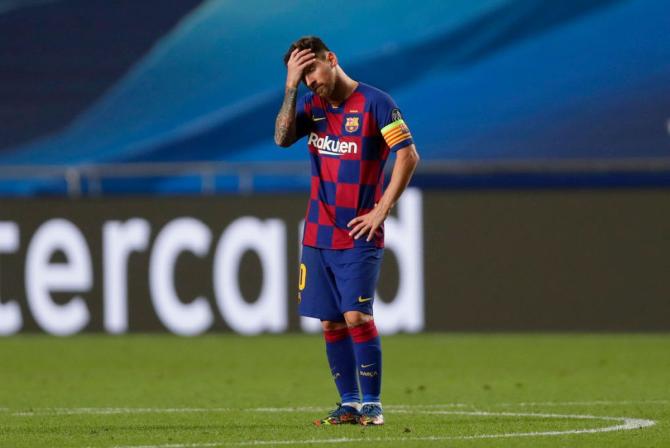 Captain Lionel Messi sent shockwaves in his club Barcelona after he expressed his desire to leave the club immediately, a source confirmed on Tuesday, less than two weeks after their humiliating exit from the Champions League.
According to Reuters, a source said the club received a burofax from Messi's lawyers declaring that the player, who has spent his entire career at Barca, wished to leave. A burofax is a service used in Spain to urgently dispatch a document through a certified email, which issues a digital certificate with legal validity.

The club subsequently sent Messi a burofax, stating they wanted him to stay and finish his career at Barca, added the source.

A second source added that the burofax Messi's lawyers sent referred to a clause in the last contract the 33-year-old Argentine signed with the club in 2017 which allowed him to leave for free, a clause that expired on June 10 this year.
The 33-year-old Argentine is into the final year of his contract at the club and doubts about his future have grown since last week's historic 8-2 thrashing to Bayern Munich to exit the Champions League, which the Catalan side have failed to win since 2015.
Barcelona had to endure a trophy-less 2019-2020 campaign as the side had finished in second place, behind Real Madrid in the La Liga standings for the season.
Messi minced no words when he slammed the club after they ended the La Liga season with a limp 2-1 defeat at home by Osasuna.
Calling his side 'weak', 'inconsistent' and 'very easy to score against', he called for urgent changes after surrendering the league title to Real Madrid, saying it was no good to use their rivals's relentless form as an excuse.
'We have to be self-critical,' Messi stated. 'Starting with the players, but doing a global self-criticism. We are Barca and we have to win everything. We can't look at Madrid... Madrid have done their job, but we have helped them a lot.'
'I said a while ago that it would be very hard to win the Champions League if we kept playing like this and it turned out it wasn't even good enough to win the league,' he said last month.
'We need to clear our heads, this break should give us the opportunity to take some air as things have been very bad from January to now.'
Messi is reportedly furious with Barcelona President Josep Maria Bartomeu for his treatment of the players, including Luis Suarez and Jordi Alba, who have been put on sale despite the captain firmly against it and has made public his revolt by asking to lave the club.
50 percent of the readers polled by the Spanish newspaper Marca said Bartomeu is responsible for Messi's exit from Camp Nou.
Messi, who joined Barca aged 13, has scored a record 634 goals for the Catalans in 730 matches and is also the club's most decorated player with 33 trophies.
However, that long-grown love affair seems to be coming to an end.
It is clear that despite Barcelona bringing in Ronald Koeman as their new coach to sing, Messi has no intentions of staying at the club.
Like his great rival Cristiano Ronaldo, who switched from Real Madrid to Juventus two years ago, Messi could also seek a fresh challenge in the last leg of his career.
With his contract running out next June, the six-times world player of the year is free to negotiate with other clubs from next January.
Yet even without a transfer fee, Messi's colossal salary, reported to be the highest in world football, means very few clubs would be able to afford him.
A study by the French newspaper L'Equipe earlier this year said Messi earns 8.2 million euros per month from Barca, way more than Ronaldo and Paris St Germain striker Neymar, who earn 4.5 million euros and 3 million euros respectively.
However, nothing is beyond the reach of Manchester City who could use Pep Guardiola to tempt Messi to the Etihad stadium. Paris St Germain could also be another club who could throw hat into the ring.
'He's very welcome. What coach says no to Messi?' Paris St Germain Manager Thomas Tuchel told BT Sport after his side lost 1-0 to Bayern in the Champions League final on Sunday.