Williams returns to Flushing Meadows untested in recent weeks and recovering from injury
Kerber threatening to leapfrog her into the world number one spot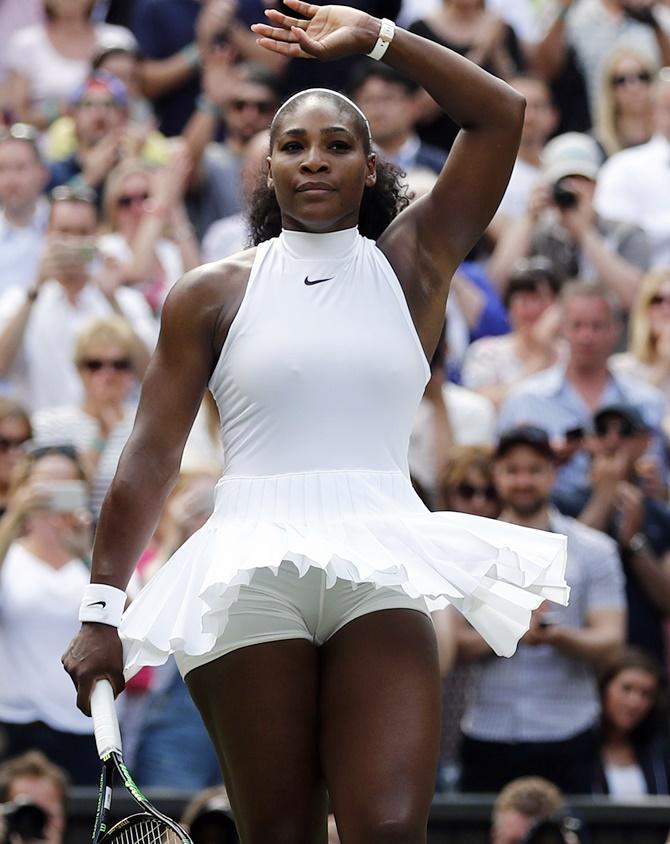 IMAGE: Serena Williams is relaxed but unsure about shoulder. Photograph: Stefan Wermuth/Reuters.
Top-seeded Serena Williams said on Friday that she was not sure about the state of her balky right shoulder but felt more relaxed entering next week's US Open than last year.
In 2015, Williams came to Flushing Meadows needing a record-setting seventh US Open singles crown to complete a rare calendar year grand slam sweep of the four major titles.
She fell short, losing in a shocking semi-final upset to unseeded Italian Roberta Vinci.
Williams returns to Flushing Meadows untested in recent weeks and recovering from injury.
"I have not played a lot, I haven't practiced a lot, but I'm just now starting to feel a little better," the world number one told reporters after the draw for the year's last Grand Slam tournament, which starts on Monday.
"Hopefully just every day I will keep going higher."
Despite the uncertainty, Williams said the pressure level seemed lower.
"I think each is different," she said. "At this point, I'm taking it a day at a time.
"I think I just am more relaxed, for sure."
Williams, 34, said her shoulder issues surfaced the day after the Wimbledon final, where she beat Angelique Kerber of Germany to win her 22nd Grand Slam singles title to match Steffi Graf for most in the Open era.
The hard-serving American has only played seven tournaments this year, with a third-round exit from the Rio Olympic singles and a first-round elimination from the Rio doubles with sister Venus her only tournament action since Wimbledon.
"I think usually I prefer to play more coming into the final Grand Slam of the year, but there is nothing we can do about it. You just have to make the best of every single opportunity. That's all I can do now," she said.
With Kerber, who beat Williams in the final of the Australian Open, threatening to leapfrog her into the world number one spot at last week's Western & Southern Open, the American asked for a Cincinnati wild card but after practicing there, decided she could not compete.
The German fell in the final to Karolina Pliskova, allowing Williams to hold the top spot through the Open and extend her streak to 186 weeks at number one, equalling Graf for the longest continuous reign.
First up for Williams in New York will be Russian lefthander Ekaterina Makarova, who has lost four of five matches to the American but beat her at the 2012 Australian Open.
"I'm OK with it," Williams said about the draw. "I try to look at it, we all always have tough matches.
"She's a big fighter. She never really stops."