IMAGE: The fun loving Brazil's synchronised swimming team poses for a photograph after a training session at the Maria Lenk Aquatic Centre in Rio de Janeiro. Photograph: Pilar Olivares/Reuters.
Come August and the world's finest athletes from 206 countries will be out to prove their best at the Olympics. If you plan to witness the action in person at Rio de Janeiro, Veenu Sandhu has some tips for you.
Ticket to the Games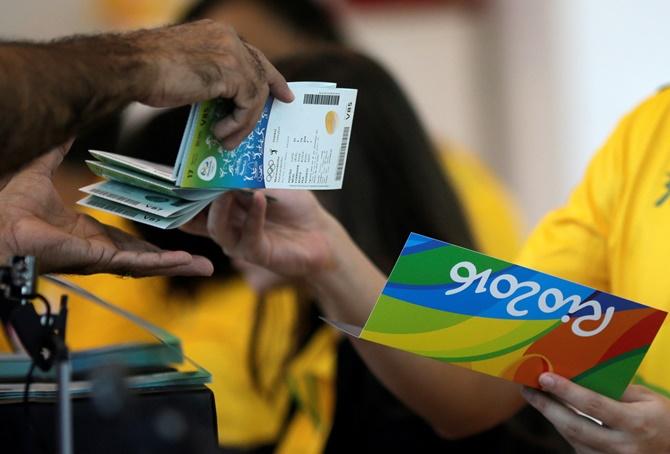 IMAGE: A salesman delivers tickets to a sport fan after he bought them at the 2016 Rio Olympics ticket office. Photograph: Ricardo Moraes/Reuters
DO NOT WAIT UNTIL YOU REACH BRAZIL to buy the match tickets. You will probably be too late. So, get them from India.
The official authorised ticket reseller in India is Kolkata-based Fanatic Sports.
The schedule of the Games is broken into sessions and tickets are available for various sessions. For example, one session of athletics, which lasts between four and five hours, includes different events like shot put, hammer throw, high jump, long jump, javelin throw and so on.
Tickets start from around Rs 1,500 per session, with the most expensive ('A' category) costing Rs 1.36 lakh (Rs 136,000) for the Opening Ceremony. The cheapest ticket for the Opening Ceremony costs Rs 21,000.
People can register on the Fanatic Sports website and can also order tickets from its online portal. One can purchase a maximum of six tickets per session online.
For a bigger order, you will need to contact Fanatic Sports and purchase the tickets offline. This is to prevent sales in the secondary market and so that all orders can be screened.
For details, contact Fanatic Sports at www.fanaticsports.in; phone: 033-71797100; email: inquiries@fanaticsports.in
Tour packages
SEVERAL TRAVEL AGENCIES HAVE TOUR PACKAGES PLANNED AROUND THE RIO OLYMPICS. However, these might not include tickets to the Games. So, check with the tour operator on whether you need to buy tickets to the Olympic events separately. Some might even arrange them for you.
Thomas Cook (India), for example, has created tailor-made itineraries that include air tickets, transfers and a host of sightseeing options, but it does not have a partnership or tie-up for match tickets.
"Match tickets are either procured directly online by our customers or from our ground suppliers locally," says Rajeev D Kale, president and country head (leisure travel, MICE), Thomas Cook (India). For example, there is a week-long itinerary that includes 'B' category tickets to a football match and 'C' category tickets to the Olympics Closing Ceremony.
The packages are for high-spenders with an average range of Rs 3.5 lakh (Rs 350,000) and upwards per person on twin-share basis.
Cox & Kings too has an 'Olympics Rio Special' five night-six day package. This includes airfare with accommodation only, plus transfers to the Maracana Stadium, Barra Stadium and the Copacabana Beach.
The opening and closing ceremonies are to be held on August 5 and 21, respectively, at the Maracana Stadium. The price, which does not include visas and taxes, is Rs 1.10 lakh (Rs 110,000) per person on twin-sharing basis. Among the highlights of this tour are visits to the Christ the Redeemer statue and Sugarloaf Mountain.
Similarly, Yatra too has customisable packages and can also add match tickets on request.
Getting there
THE AIRFARES ARE DYNAMIC AND VARY, depending on the airlines chosen and whether or not the flight is direct. But a round trip to Rio de Janeiro tentatively costs upwards of Rs 1.30 lakh (Rs 130,000), whether it is from Delhi, Mumbai, Bengaluru or Kolkata.
"Travel to Brazil is convenient and there is ample connectivity from India," says Karan Anand, head (relationships), Cox & Kings. "People can fly on carriers such as Emirates, Air France, Etihad and British Airways."
Travel and stay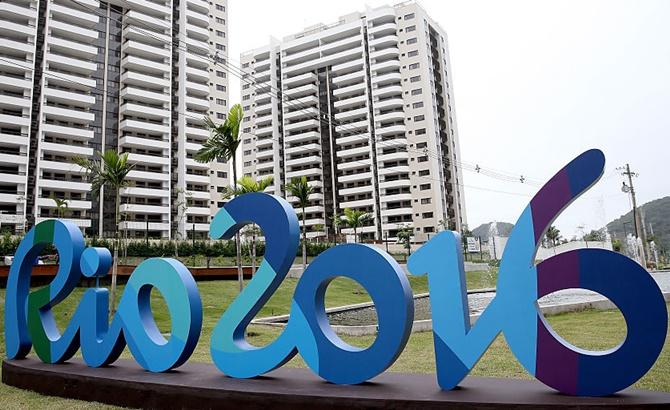 IMAGE: Preparations at the Olympic Athlete Village for the Olympics. Photograph: Matthew Stockman/Getty Images
WHILE BUSES ARE THE MAIN FORM OF PUBLIC TRANSPORTATION, trains and subways are also popular. The Metro is the city's safest and cleanest form of public transport. Buses are less safer at night.
Several hotels, meanwhile, are already booked, but a reliable tour operator can find you accommodation. A room can cost Rs 2,800 a night to upwards of Rs 55,000. "There are also some unique stay experiences such as Airbnb (an online rental service that enables people to list, find and rent vacation homes), youth hostels, apartment hotels or studio apartments with modern amenities," says Rajeev D Kale of Thomas Cook (India).
Do your research well, so that you don't end up in a remote, uncomfortable area. And, book early. Finding accommodation will get trickier closer to the Olympics.
Sightseeing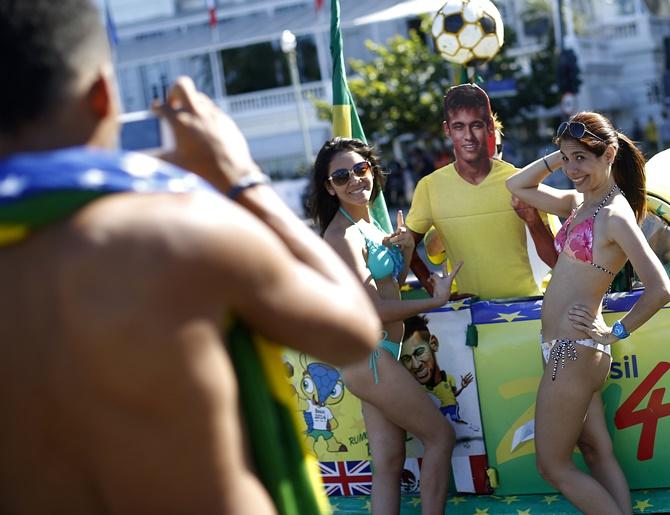 IMAGE: Tourists pose with a Brazilian soccer fan. Photograph: Ricardo Moraes/Reuters
"CIDADE MARAVILHOSA OR MARVELLOUS CITY -- THAT'S WHAT RIO DE JANEIRO IS CALLED FOR ITS BEAUTIFUL BEACHES and picturesque mountains. There is a lot to see and do here.
You could take a four-hour tour to the Corcovado Mountain atop which stands the 125-feet tall Christ the Redeemer statue overlooking Rio. A cog train takes you up the steep mountainside through the tropical Tijuca rainforest. The view is spectacular.
Or you could head to the Tijuca National Park, one of the largest man-made, urban forests in the world. The attractions here include the Mayrink Chapel, a pagoda-style gazebo and the cascading Cascatinha Waterfall. The adventurous can hike up to Pico da Tijuca, Rio's highest peak.
The fascinating Lapa neighbourhood in downtown Rio, known for its vibrant nightlife, is another attraction with its samba and choro bars. The architecture dates back to the 1800s.
Here, in the midst of music and dancing, try the national cocktail, caipirinha, which is made with sugarcane hard liquor and lime.
A must visit is the Sugarloaf Mountain, the 1,300-feet quartz and granite monolith at the mouth of Guanabara Bay.
And do not skip the beaches. The most popular is Ipanema, located in an upscale area and lined with cafes, restaurants, shops and art galleries. Also popular is Copacabana with its 4-km-long promenade. Catch a game of beach volleyball or just sit back and relax.
Fair weather
THIS TIME, THE SUMMER OLYMPICS ARE BEING HELD IN A WINTER MONTH. August is a winter month in Rio de Janeiro, but it is not uncomfortably cold. In fact, it is one of the most enjoyable months to visit this city.
The average temperature is 22 degree Centigrade. In the afternoon, it can go up to 27 degrees, while the nights are pleasant at 19 degrees.
Rainfall is low.
Zika alert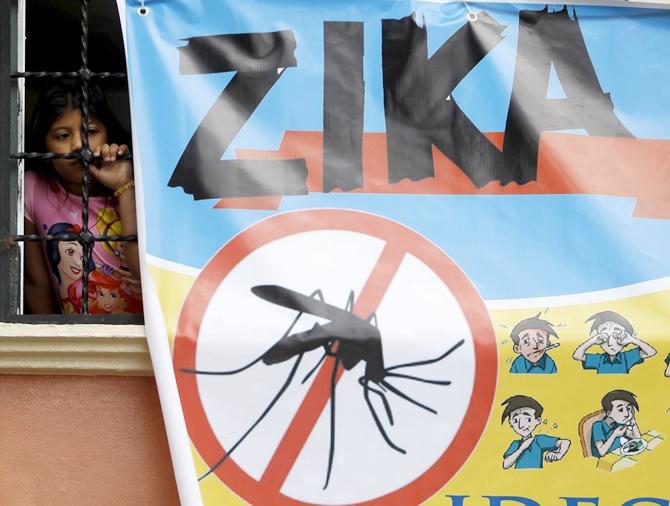 IMAGE: Athletes and staff concerned for their health over the Zika virus. Photograph: Jorge Cabrera/Reuters
IS THE HOT ZONE FOR THE ZIKA VIRUS and the virus infection in pregnant women can cause serious birth defects.
The Centres for Disease Control and Prevention recommends that pregnant women should not go to the Olympics.
Consult your doctor about medicines and vaccines recommended for Brazil. And keep mosquito repellents handy.