From a gangly midfielder who could breeze past the players, to the awe-inspiring performance against AC Milan, to the famous slip against Chelsea, which cost Liverpool the title, Gerrard has enshrined his name at Anfield as one of the great, if not the greatest.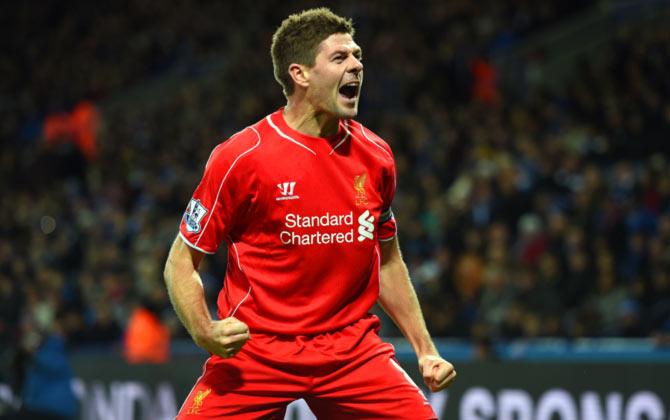 Liverpool captain Steven Gerrard. Photograph: Shaun Botterill/Getty Images
It is testament to Steven Gerrard's ability that his Liverpool career will be remembered for heroic acts of willpower that ensured no deficit was irretrievable and no opponent unbeatable, rather than the league title that eluded him.
There was surprise when he announced on Friday that this season would be his last at Anfield after nearly 17 years in which his ability to wrestle victory from the jaws of defeat made him one of the finest players in the club's history.
Yet there was also a sense that perhaps this was a sensible decision from a player who had made his name influencing big games in a major way, when the alternative would have been to allow his Liverpool career to peter out.
Simply fading into the background would have been unthinkable for a player who always grabbed the attention.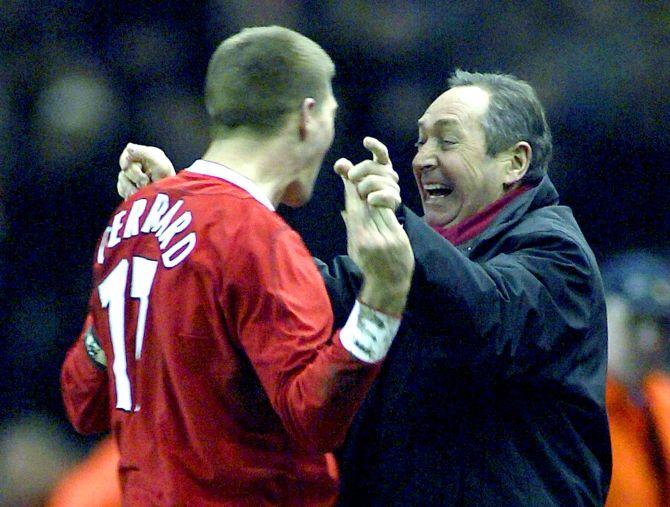 Liverpool's Steven Gerrard celebrates his goal against Levski Sofia with manager Gerard Houllier in a UEFA Cup match at Anfield.

Photograph: Simon Bellis/Reuters
Former Liverpool manager Gerard Houllier recalls the moment he first clapped eyes on the 17-year-old Gerrard.
The Frenchman spotted a gangly midfielder dashing from box-to-box and behaving like a leader, immediately promoting him to the first team despite concerns about his fragile young body.
Houllier handed Gerrard his debut in 1998 and five years later he became a precocious captain at the age of 22.
His greatest moment on the pitch undoubtedly came in the 2005 Champions League final in Istanbul.
Gerrard peeled his team mates off the floor at 3-0 down to AC Milan with a header that reduced the deficit and inspired one of the greatest comebacks in the history of European football.
That culminated in a lung-busting Gerrard charge into the area that led to him being brought down for a penalty from which Liverpool equalised before clinching the trophy in a shootout.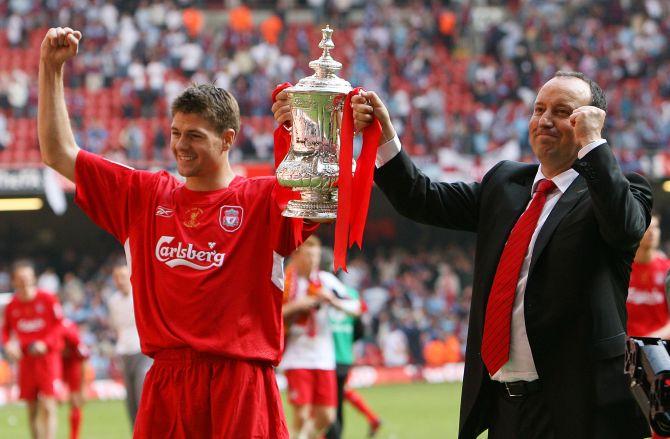 Liverpool's Steven Gerrard (left) and manager Rafael Benitez celebrate winning the English FA Cup after defeating West Ham United in the final. Photograph: Eddie Keogh/Reuters
This was Gerrard at the peak of his powers, able to influence any occasion, to grab any match by the scruff of the neck and turn events in his favour, just as he did in the FA Cup final 12 months later.
With Liverpool trailing West Ham United 3-2 heading into stoppage time, a cramping Gerrard let fly from 30 metres, rifling home his second goal of the game to take the match into extra-time and then penalties where the Merseysiders won out again.
Much of Gerrard's career could have been plucked from the pages of the finest comic book heroes, except the final chapter in which his long wait for a league title was extended by a cruel slip, just as the fairytale appeared to be heading for its customary happy ending.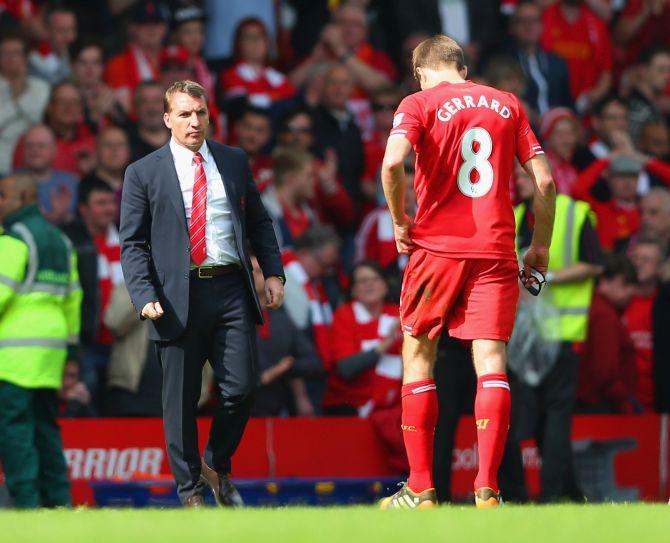 Liverpool manager Brendan Rodgers looks on as Steven Gerrard leaves the pitch at the end of the match. Photograph: Clive Brunskill/Getty Images
Having twice before finished Premier League runners-up, Liverpool were top of the table with three matches to go when Chelsea arrived at Anfield with little but pride to play for.
With the game 0-0, Gerrard shaped to receive a simple pass when he mis-controlled the ball and slipped on the turf, allowing Chelsea's Demba Ba to scamper away and find the net.
Liverpool lost the game, the title went to Manchester City and Gerrard's hopes of claiming the Premier League trophy for the first time were extinguished.
With Liverpool 17 points behind leaders Chelsea and Manchester City in the current standings, Gerrard knows he will never get his hands on the only major club trophy he lacks, which along with an unfulfilled international career, will be a major disappointment.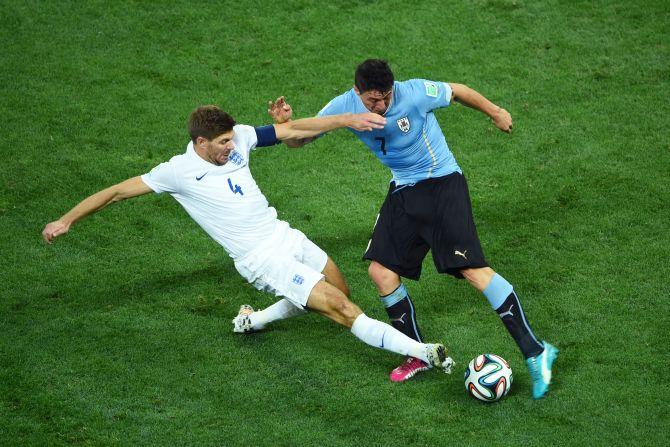 Steven Gerrard (left) of England tackles Cristian Rodriguez of Uruguay during the 2014 FIFA World Cup. Photograph: Matthias Hangst/Getty Images
Like the rest of his England contemporaries, playing for his country on the big stage was a frequent let-down, with the his final act perhaps the most underwhelming, captaining the team at last year's World Cup as they exited in the group stages with a whimper.
Few players spend their whole career at one club and no Liverpool fan will begrudge Gerard a swansong abroad having given his best years to Liverpool and resisted the urge to jump ship to Chelsea in 2005 when he was courted by the cash-rich Londoners.
That decision cost him his best chance of winning the league, but in an era when loyalty is a rare commodity, he will leave the club he grew up supporting as a boy feted as one of their greatest players if not among their most successful.