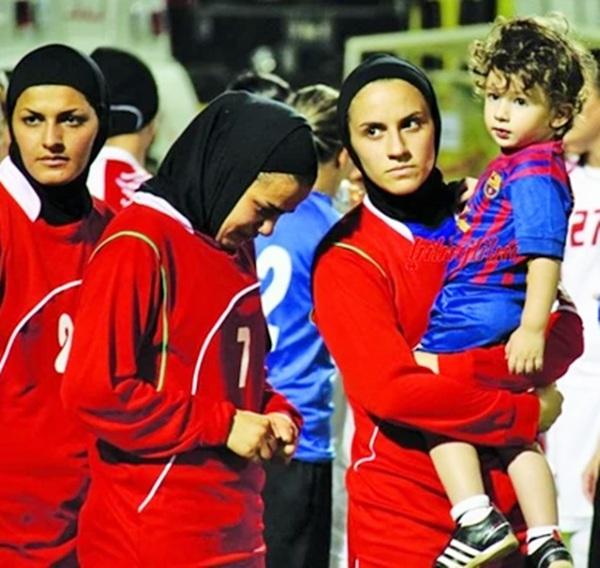 Niloufar Ardalan, right, the captain of the Iranian women's football team. Photograph: Facebook
The Iranian woman's football captain, Niloufar Ardalan, will miss the Asian Cup tournament as her husband has confiscated her passport in a domestic quarrel, the local media has reported.
Known as Lady Goal, Niloufar Ardalan has reportedly been banned from attending an international tournament by her husband. The 30 year old will not travel with her teammates to the Asian Football Federation Women's Futsal Championship because her husband is said to be refusing to let her leave the country.
The dispute between the midfielder and her sports journalist husband touches on the rights of women in the Islamic Republic. Under Iranian law, husbands can stop their wives from travelling outside of the country.
He has reportedly refused, because he wants his wife to be at home for their seven-year-old son's first day at school, according to Fox News.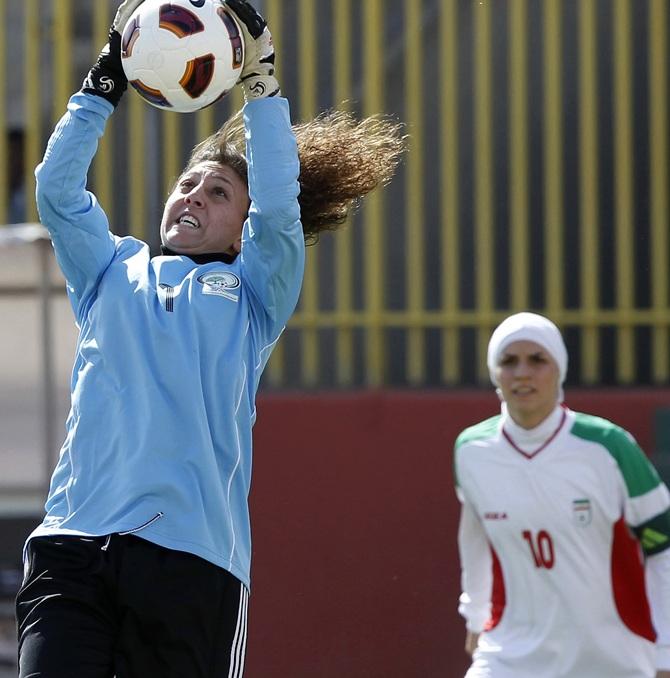 Palestine's goalkeeper Nadin Alkolayb saves the ball as Iran's Niloufar Ardalan, right, looks on. Photograph: Ali Jarekji/Reuters
News of Ardalan missing the tournament came Monday, when Iranian news website fararu.com reported that Ardalan wouldn't be travelling to Malaysia for the Asian Cup, which begins Thursday.
'My husband didn't give me my passport so that I can (take part) in the games, and because of his opposition to my travel abroad, I (will) miss the matches.' Ardalan told Nasimonline.

In an Instagram post Tuesday, Ardalan said foreign media was exaggerating her case, but also acknowledged she would be missing the tournament. She also made a call for Iran to change its laws governing married women's travel.
'I wish authorities would create (a solution) that would allow female athletes to defend their rights in such situations.
Ardalan had been due to travel with the team to Nilali in Malaysia for the six day competition, which starts on Monday.
It was claimed she had participated in weeks of training ahead of the tournament and is now calling for sportswomen to be exempt from the law.
'As a Muslim woman, I wanted to work for my country's flag to be raised (at the games), rather than traveling for leisure and fun,' she reportedly added.