Kirsten Flipkens led India Aces to a tight one-point win over defending champions Singapore Slammers with her decisive victory over Kiki Bertens in the do-or-die women's singles clash in IPTL, in Tokyo on Saturday.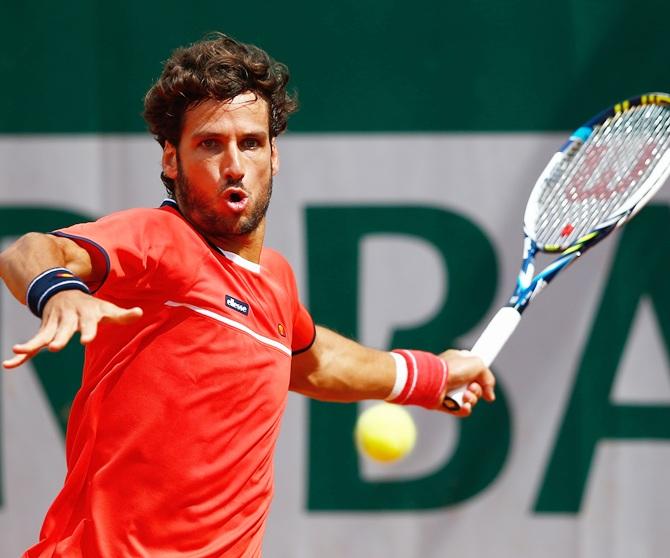 With scores level 2-2 after four one-set matches, it all depended on Kirsten and she did not disappoint the last year's finalists, edging past Kiki 6-5 via shoot out.
It was second consecutive win for Indian Aces this IPTL season.
The contest was tight from the beginning with former world number one Carlos Moya beating Thomas Enqvist 6-4 in the Legends singles.
Feliciano López leveled the match for the Indian side with a 6-4 victory over Marcos Baghdatis in the Men's Singles encounter.
The Men's Doubles was a spectacular display of volleying skills and big-time tennis. The Slammers pair of Nick Kyrgios and Marcelo Melo prevailed 6-4 over Ivan Dodig and Lopez.
Sania Mirza and Bopanna carried on with their great form from the previous opening day and got the Aces on level terms with their 6-4 win over Melo and Kiki, leaving the women's singles as the decider.
Kirsten, who won her singles on Day 1, raised her level right when it mattered and turned around the score to force a Super Shoot-Out against Kiki. The Belgian was sensational at the decisive moments as she secured an a tight triumph for the Aces.
"It was really nice to get the win for the team. It was a really tough match, a really tough deciding set," said Kirsten.
Carlos Moya said,"I like the different rules and the team environment. Big stadiums still give me the chills and the adrenaline that I missed after I retired. For me, it is a pleasure to be here. Nishikori, Raonic, Kyrgios, Zverev, Thiem… Those five names are the ones that will probably be the next first time Grand Slam winners."
López said, "The key behind playing doubles and singles is to be healthy and stay healthy for a long time. It's almost two years that I play singles and doubles every week. With Marc López, who is one of my best friends, makes things easier. Otherwise would be very tough for me."
"I've got many presents from Japanese fans, letters, one of them actually made a book of pictures she took me on different places."
In another match, hosts Japan Warriors beat UAE Royals 23-20.
Image: Feliciano Lopez of the Indian Aces
Photograph: Julian Finney/Getty Images