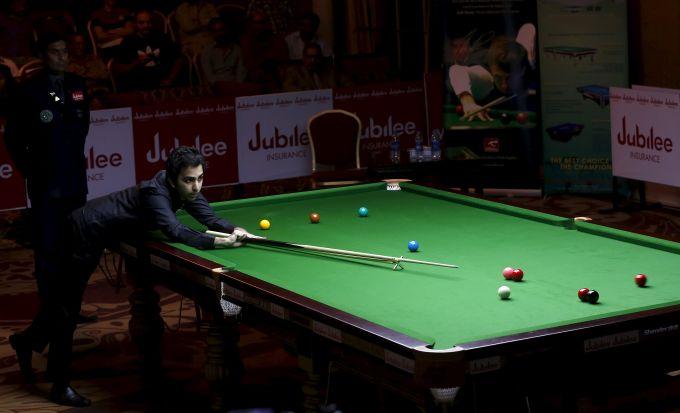 India's Pankaj Advani plays a shot during his snooker match against China's Yan Bingtao during the IBSF World 6 Red Snooker Championships in Karachi. Photograph: Akhtar Soomro/Reuters
Pocketing his 13th World title, ace cueist Pankaj Advani feels that an IPL-like league in snooker or billiards would be a possibility in the game that has become financially rewarding.
Advani, who successfully defended his World 6-Red Snooker title on Tuesday after humbling top Chinese cueist Yan Bingtao 6-2 in the best-of-11 frame final yesterday, is keen to see the game thrive in India.
"It can happen and I can say after having played so long that the sport now is financially rewarding in the long run," Advani said when quizzed about the possibility of a snooker or billiards league in India.
"The sport is doing well in India and the 6-ball format has caught on as it is shorter in duration to conventional 15 red ball snooker and people get good entertainment," he added.
Advani, who go past Pakistan's Asjad Iqbal in the semi-final, was all praise for the Pakistan players and said the organisers -- the Pakistan Billiards and Snooker Association -- had done a remarkable job in managing such a smooth tournament.
"Pakistan is now producing some very good snooker players and it has become a major hub for snooker in Asia. So it always feels good to do well here. Before coming to Karachi I told the rest of the players in our delegation who were coming here for the first time that you will not find much difference between Pakistan and India and Karachi is just like Mumbai," Advani recalled.
A close match was expected since Bingtao is the youngest ever World champion and known for his ability to fight back from impossible situations on the table.
But Advani's experience came through as the 29-year old overcame the Chinese cueist 37-21, 57-00, 32-29, 00-66, 08-38, 48-00, 75 (71)-00, and 40-28.
Advani said that snooker is an unpredictable sport and he was happy to defend his title.
"I lost my opening match in the championship as I reached Karachi late night and had to play my match early next morning but I am satisfied at the way I recovered as the event progressed," he said.
Advani showed great form to win the title as earlier in the day, he was pushed in the last-four by Iqbal, who led the match 0-2 initially, only for the defending champion to come from behind and take the match 5-4.