Brazilian athletes will not be affected; Team Brazil will be able to take part at next year's Winter Olympics in Pyeongchang
Nuzman is latest official to be involved in ongoing corruption investigations, a further blow to reputation of the Olympics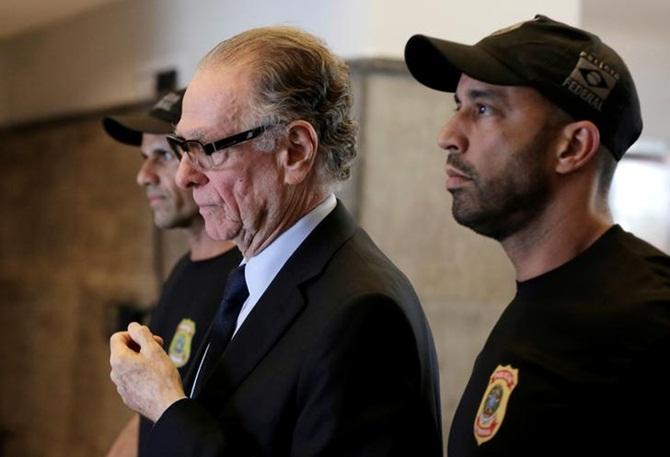 IMAGE: Brazilian Olympic Committee (COB) President Carlos Arthur Nuzman leaves the Federal Police headquarters heading to jail, in Rio de Janeiro. Photograph: Bruno Kelly/Reuters
Brazil's national Olympic committee (COB) and its head Carlos Nuzman were provisionally suspended by the International Olympic Committee on Friday, a day after the 75-year-old was arrested in Rio de Janeiro in connection with a corruption investigation.
However, the IOC said in a statement Brazilian athletes would not be affected and Team Brazil would be able to take part at next year's Winter Olympics in Pyeongchang.
Nuzman, a former IOC member and now honorary member, is accused of arranging more than $2 million in bribes to get the IOC to pick Rio de Janeiro as host of the 2016 Olympic Games and faces allegations including corruption and money-laundering. He has denied any wrongdoing.
Rio was awarded the Games in 2009, successfully bidding against Chicago, Tokyo and Madrid.
The IOC said Nuzman would provisionally lose all the "the rights, prerogatives and functions" deriving from his IOC status and that he would be withdrawn from the coordination commission for the 2020 Tokyo Olympics.
The COB was suspended because it was responsible for Rio's bid to stage the Games, the IOC said. As a result, subsidies and payments from the IOC have been frozen.
"This decision shall not affect the Brazilian athletes," it added. "The IOC will accept a Brazilian Olympic Team in the Olympic Winter Games Pyeongchang 2018 and in all other competitions under the umbrella of the COB with all rights and obligations."
The COB in Rio de Janeiro said it did not immediately have any comment to make when contacted by Reuters.
The decision was welcomed by IOC member Richard Peterkin, who has repeatedly criticised the IOC leadership in recent months for its handling of several corruption cases involving members.
"It had to be done," Peterkin, an IOC member from St Lucia, said on Facebook. "There was just too much evidence, some of it self incriminating.
"The reputational damage for the Olympic Movement is huge, and there will be more revelations to come. We need to drain the swamp."
In August 2016, IOC President Thomas Bach awarded the organisation's highest honour, the Olympic Order in gold, to Nuzman, praising his work for the Rio Games.
Nuzman is the latest official to be involved in ongoing corruption investigations and a further blow to the reputation of the Olympics.
Frankie Fredericks, another IOC member, has temporarily stepped down from his posts pending the results of those investigations. He denies any wrongdoing.
Senior IOC member Patrick Hickey, who has also vehemently denied any wrongdoing, has imposed a self-suspension since he was involved in an Irish Olympic Committee ticket scandal and in September resigned from the IOC Executive Board.
Nelio Machado, a lawyer for Nuzman, told reporters on Thursday that the vote-buying accusations were unfounded.
Brazilian police first raided Nuzman's home in September and accused him of paying a $2 million bribe to the son of Lamine Diack, a former IOC member from Senegal and former head of the international athletics federation (IAAF).
Both Diack and his son have denied the allegations. Namibian Fredericks has admitted receiving money from Diack's son but has said it was for professional services rendered.
Marcelo Bretas, the federal judge who authorised the arrests, said on Thursday that new evidence indicated that Nuzman's role in the alleged vote-buying scheme was "more relevant" than previously thought.