Olympic chiefs tried to ease concern about the fate of stray dogs in Sochi on Wednesday, saying only sick and dying animals were being destroyed before the city hosts the Winter Games.
In the latest problem to mar President Vladimir Putin's preparations for the Olympics, animal rights activists have protested to him over reports that stray dogs are being culled to clear them off the streets before the Games begin on Friday.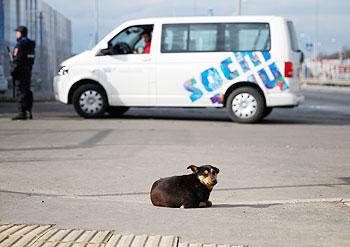 But International Olympic Committee spokesman Mark Adams said the dogs were being sent to a sanctuary after they were caught, and added: "It would be absolutely wrong to say that any healthy dog is being destroyed."
The outcry over the dogs, along with security concerns and criticism of Putin's record on democracy and human rights, is undermining the president's attempts to use the Olympics to improve Russia's image.
Animal rights group Humane Society International said this week it had written to Putin to urge him to stop what it called the culling in Sochi.
"Killing street dogs, whether through poisoning, shooting or other means, is not only inhuman, but ineffective," Andrew Rowan, the group's chief executive, said.
"While Russia has the world's attention with the Olympics around the corner, the current dog killing program will only rouse an international outcry and taint the image of the country," he said.
Residents say thousands of dogs have disappeared from the streets of Sochi in the last few weeks. Although some can still be seen wandering the streets, reporters and local residents say there have been fewer each day.
Residents say many of the dogs on the loose had been kept as pets or guard dogs by foreign workers who helped build the Games venues but have now returned home. Some of the dogs, they say, have been found dead in the streets.
Mikael Nersesyan, a spokesman for the Sochi city authorities, told Reuters by email that dogs were rounded up each year in the city, given treatment and sterilised. Many were now in a local shelter for stray animals.
"All the dogs receive the necessary vaccinations. Volunteers and sponsors help with food. It's hoped the shelter will be a temporary home for each of the animals. Each dog should ideally find its way into the safe hands of permanent owners," he wrote.
Image: A dog sits outside a vehicle security checkpoint ahead of the Sochi 2014 Winter Olympics near the Olympic Park in Sochi on Wednesday
Photograph: Joe Scarnici/Getty Images