Bach, IOC President, has been invited to visit India for a meeting with Prime Minister Modi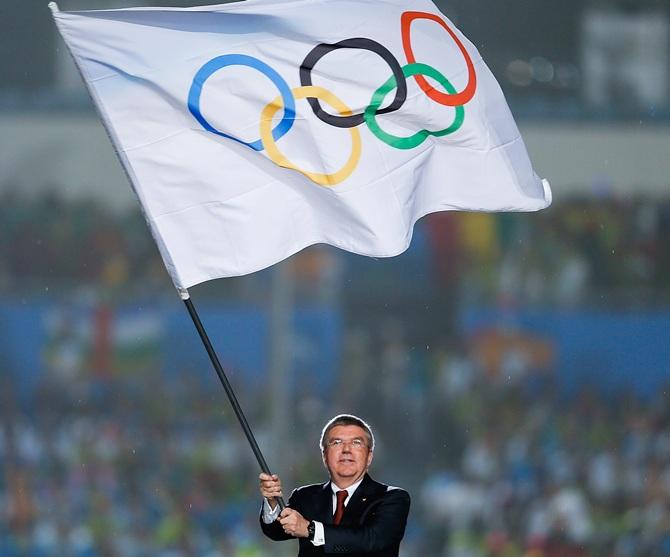 International Olympic Committee (IOC) President Thomas Bach waves the Olympic flag. Photograph: Lintao Zhang/Getty Images
In a significant development, the union government and the national Olympic body have invited International Olympic Committee chief Thomas Bach for a meeting with Prime Minister Narendra Modi later this month to discus the development of sports in the country and a likely bid for 2024 Olympic Games.
Bach, who took over as IOC President in 2013, has been invited to visit India for a meeting with Prime Minister Modi in New Delhi. The date of the meeting has been tentatively fixed on April 27. This will be Bach's first visit to India after becoming IOC President.
The invite was handed to Bach, a former Olympian fencer who hails from Germany, at the IOC headquarters in Lausanne, Switzerland by Sports Secretary Ajit Sharan and IOA President N Ramachandran.
Bach is also expected to meet top IOA officials later that day.
Sources in the IOA said that the government would sound out Bach that the country is keen to bid for 2024 Olympic Games though they refused to come on record. No government official was also willing to come on record on this.
However, they said that Bach has been very keen on the development of Olympic sports in the country and play a big role in the Olympic movement in the coming years.
Ramachandran confirmed that PM Modi will meet Bach later this month but would not comment on India's likely bid for the Olympic Games in 2024.