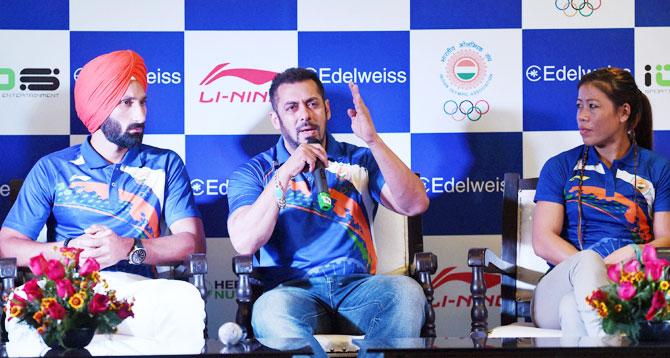 IMAGE: Bollywood actor Salman Khan with boxer MC Mary Kom (right) and hockey captain Sardar Singh during a function where he was named Goodwill Ambassador of the Indian contingent for Rio Olympics 2016, in New Delhi on Saturday. Photograph: Manvender Vashist/PTI
Forced on the back foot after being slammed for appointing Salman Khan as goodwill ambassador of India's Olympic contingent, the IOA said, on Sunday, it would also rope in icons from music, cricket, and other sports to motivate the athletes.
"We are very happy and thankful on Salman's offer to support Olympic Sports in this country. This association is only a gesture and does not include any monetary consideration," IOA Secretary General Rajiv Mehta said in a statement.
"...our key objective of bringing him on board is to draw maximum attention from the masses, due to which there will be more eyeballs and viewership which will eventually result in popularizing Olympic sports in the country. We may appoint more icons from other walks of life like music, cricket, art culture and Olympic sports etc," he added.
Salman's appointment has triggered a furore with star wrestler Yogeshwar Dutt and sprint legend Milkha Singh questioning the move.
Salman, who is playing the role of a wrestler in his upcoming film Sultan, was named goodwill ambassador by the Indian Olympic Association (IOA) on Saturday in the presence of star woman boxer M C Mary Kom, hockey captain Sardar Singh, and shooter Apurvi Chandela among others.
The position itself is unprecedented and IOA's decision to pick Salman for it left the sporting fraternity divided with London Olympics bronze-medallist Yogeshwar and the legendary Milkha leading the criticism.
"Mr. Salman Khan is only being appointed from Bollywood segment and we are in talks with two other big names in music and cricket. We are more than willing to have as many icons including the likes of Ms. Anju Bobby George and Ms. PT Usha who have the capacity and capability to popularise Olympic sports in the country," Mehta said.