Libby Trickett, one of Australia's most decorated swimmers, has retired due to a wrist injury, Swimming Australia said on Wednesday.
The 28-year-old, who was a member of the women's gold medal winning 4x100 metres freestyle relay team at last year's London Olympics, has struggled to return to the pool after suffering the injury eight months ago.
"There will always be a tinge of sadness to leave the sport that I love, but I have wonderful memories and experiences to draw upon in the future," Trickett said in a statement.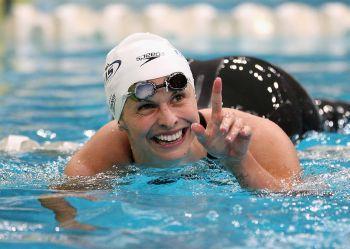 "I feel at peace with my decision and most importantly I feel that I am finally ready to take on the next adventure in my life."
In a career which spanned more than a decade, Trickett won seven Olympic medals at three Games, including four golds, and earned multiple top finishes in world championships and Commonwealth Games.
She retired in late 2009 while battling depression but returned to competitive swimming in 2010 to qualify for her third Olympics in London.
The swimmer will now pursue a career in the media with Australia's Network Ten.
"I'm looking forward to the challenge, fun and craziness that this next phase has in store for me and working in television has always been a dream of mine so I feel very blessed to have this opportunity," Trickett said.
Photograph: Craig Golding/Getty Images