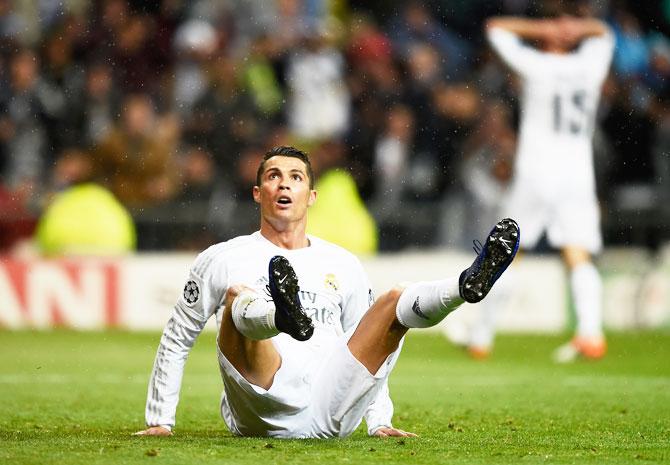 It's been a week now since Real Madrid Cristiano Ronaldo hobbled off the pitch after injuring his thigh against Villarreal during a La Liga match last Wednesday.
Since then, the Portuguese forward he has tried to allay fears about the extent of his injury by posting happy pictures of himself on his Instagram account, stating "Don't worry be happy," and later some more photographs of him exercising in a gym, including one where he is flexing his muscles.
His efforts to stay positive despite the injury setback did not pay off as he was forced to sit out of the match against Rayo Vallecano last Saturday and then the UEFA Champions League, first leg, semi-final against Manchester City on Tuesday.
Before the game in England, television cameras caught him saying that he still wasn't fully fit.
"I'll wait for the next match," he said in Portuguese, apparently while talking to other players. "If it was a final, I would play."
Ronaldo was photographed entering a private clinic in Madrid on Wednesday for tests and according to Spanish press reports he has not torn the muscle, but will be unavailable against Real Sociedad on Saturday.
Now, the club has not yet come clean on the extent of Ronaldo's injury, but some reports in the European media have gone on to claim that Ronaldo would undergo stem cell treatment to try to recover in time for next week's game at the Santiago Bernabeu in Madrid.
According to The Sun, The treatment is similar to that received by tennis ace Rafael Nadal on his recurring knee injury. A sample of healthy cells from the star's blood or bone marrow is injected into the problem area to help speed up recovery.
The 31-year-old Ronaldo faces a nervous wait as his fitness will be assessed only ahead of the Champions League tie on May 4.
The former Manchester United forward is the top scorer in the Champions League with 16 goals in 10 games and has 31 goals in La Liga, three fewer than leading marksman, Barcelona's Luis Suarez.
Photograph: Mike Hewitt/Getty Images