Kvitova to decide on participation on Friday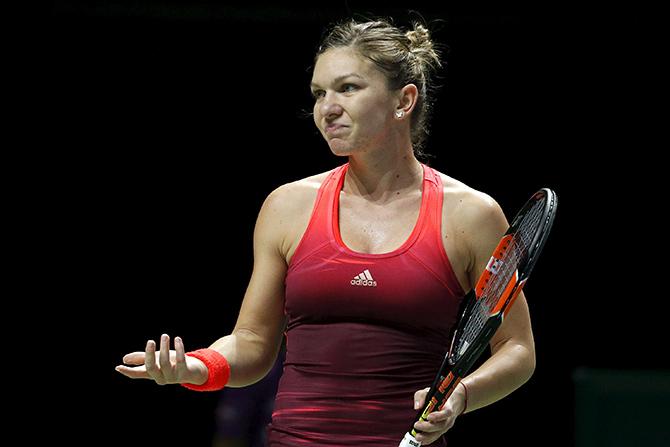 IMAGE: Simona Halep. Photograph: Edgar Su/Reuters
World number four Simona Halep says she has only a "50-50" chance of being fit for the French Open after injuring her ankle during the Italian Open final last week in Rome.
The Romanian posted a composite photograph on her Instagram account showing the 25-year-old having treatment on the injury.
"Arriving early in Paris for treatment. The MRI scan shows a torn ligament from the fall in Roma," the 2014 French Open finalist said.
"I'm keeping my fingers crossed for RG (Roland Garros) and will do everything possible to be ready. Doctors say it's 50/50 at the moment but it's made good improvement since Sunday.
"We are remaining very positive."
With Serena Williams, Victoria Azarenka and Maria Sharapova all absent, Halep would be one of the favourites to claim what would be a maiden grand slam crown at the May 28-June 11 tournament.
She won the title in Madrid and looked on course to follow that triumph in Rome but stumbled early in the final against Ukraine's Elina Svitolina and went on to lose in three sets.
Meanwhile, Petra Kvitova will reveal whether she will take part in next week's French Open at a news conference in Paris on Friday, the two-time Wimbledon champion said on Wednesday.
The 27-year-old Czech required surgery to her left, playing, hand after being stabbed by an intruder at her home last December, but has made a faster-than-expected recovery.
"I am flying to Roland Garros today and taking part in a press conference on site at 2.30 p.m. local time on Friday," she wrote on Instagram. "Keep everything crossed for me that I will be able to play there."
Kvitova already confirmed on Tuesday that she is set to play at Wimbledon in July.