Ethiopia's Olympic 10,000 metres champion Tirunesh Dibaba has withdrawn from next month's London Marathon with a shin injury, organisers said on Thursday.
Dibaba had been set for her debut over the 42.195-km distance but an old lower leg problem has flared up during training for the race.
"I have been in training for the London Marathon, but the increase in mileage has caused a flare up of my previous lower leg injury," she said in a statement.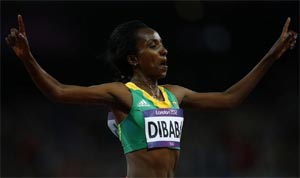 "As a result, I won't be able to compete in this year's London Marathon but I look forward to making my marathon debut there next year."
Dibaba had been aiming to become the first Ethiopian woman to win the London race since her cousin Derartu Tulu in 2001.
Ethiopia's challenge in the women's race will now be spearheaded by Olympic champion Tiki Gelana who is running the London Marathon for the first time.
"Of course, it is disappointing to lose Tirunesh. She has been such a fantastic athlete on the track, and everyone was full of anticipation to see how well she performed in a marathon," race director Hugh Brasher said.
Photograph: Eddie Keogh/Reuters