India's ace rock-climber and Red Bull athlete Tuhin Satarkar, was seen egging on the participants at the 3rd Edition of Red Bull Jod Ke Tod as curtains were drawn on a sensational note as Sarvajanik Ganeshoutsav Mandal & Parle Sports Club were crowned men's and women's champions with timings of 16.84 seconds (men's category) & 19.83 seconds (women's category).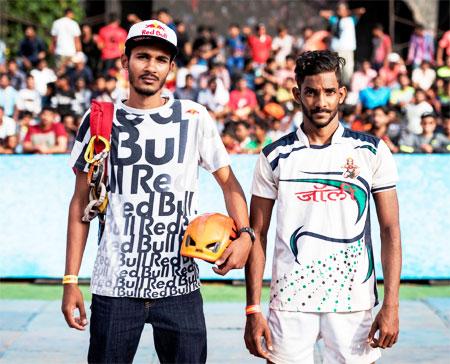 The 2017 edition of the event that went on from July 29 to August 6 at the MET, Bandra, Mumbai, received an overwhelming response as over 40 teams of women and men from the city's best dahi handi mandals went head to head at making the fastest, tallest and strongest human pyramids in numerous rounds to become the champion of Red Bull Jod Ke Tod in Mumbai.
Interacting with the athletes at the events he said, "Being a Maharashtrian, Gokulashtami has a very special place in my heart. While Dahi Handi has always been rooted in tradition, Red Bull Jod Ke Tod is instrumental in recognizing and elevating the agility, athleticism and courage of these incredible women and men participating."
Speaking to Rediff.com on the sidelines of the event Satarkar said: "I am into rock climbing and since dahi handi and rock climbing have a lot of similarities.
"There are a couple of things similar between dahi handi and rock climbing. The most important thing is balance. In dahi handi, if the base is not strong, the person who is trying to reach the top will eventually fall. It goes the same with rock climbing; one needs to have the balance in place to reach to the top.
The 21-year-old adventure sportsman revealed he has "never participated in dahi handi till now but I would definitely love to try".
Having come from a family of climbers, Satarkar stressed that has imbibed fearlessness from his folks.
"Since I have been climbing since almost when I was born, I never really had that fear. I also believe that it's always good to have some fear; it helps keep you up on toes," he said.
Image: India's ace climber Tuhin Satarkar with a participant at the Red Bull Jod Ke Tod dahi handi event