The Indian hockey team's Olympic qualification was not just celebrated in the country but was also lauded by their counterparts across the border in Pakistan who felt the side's presence in the mega-event is essential for the sport.
India booked their ticket to the London Olympics on Sunday night by hammering France 8-1 in the qualifiers' final in New Delhi.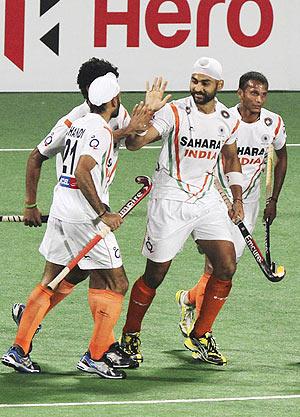 "I have been following India's matches in qualifiers and they played really well. Far better than what we saw last time. India has got a relatively easier pool but qualifiers are always pressure games and you cannot take any team lightly. India has handled this pressure very well," Rehan Butt said from Lahore.
"For the existence of Asian Hockey it is necessary that India and Pakistan play major events like the Olympics. It will be great to see India in London," he said.
Another Pakistan player, Sohail Abbas, was always optimistic of India's qualification for London Games.
"The beauty of the game lies in India-Pakistan matches and you see packed grounds every time the arch rivals meet. London Games will be special as the city has a large number of Indian and Pakistani population and it will be a treat for them."
"I am waiting for an India–Pakistan match in London," said the ace drag flicker, who has been named in Pakistan's probables for the Olympic preparatory camp to be held from this week.
He was also full of appreciation for India penalty-corner specialist Sandeep Singh who is the man of the moment for India.
Sandeep scored 16 goals in the qualifiers including 5 in the final. Sohail counts him among the best five drag-flickers in the world.
"India has got Sandeep Singh who is one of the best drag flickers in the world and is in awesome form. India has many talented players like Raghunath and Rupinder as far as penalty corners is concerned. Jugraj (penalty corner coach) is doing really well for them," said the veteran.
The captain of Chandigarh team in World Series Hockey Rehan is hoping that this event will be highly successful and will increase hockey's popularity.
"Indian crowds just love hockey. We have seen packed a stadium in the qualifier final and during World Cup 2010 and Commonwealth Games also. I hope that WSH will bring them to stadium again," he said.