Javelin thrower Neeraj aims to give his best at Asian Games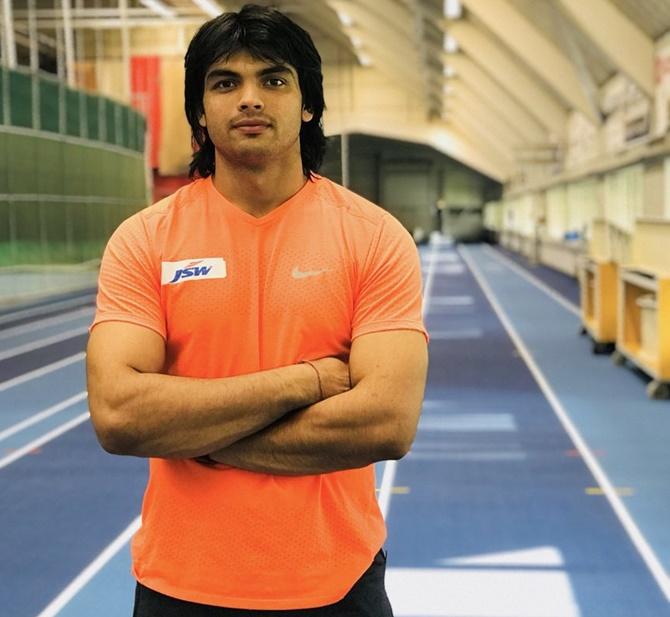 One of India's brightest medal prospect, javelin thrower Neeraj Chopra is not in a mood to be bogged down under pressure and said he is only focussed on producing his best at the upcoming Asian Games in Jakarta and Palembang.
Neeraj will lead the Indian contingent at the opening ceremony of the Asian Games and the young athlete said it is an honour for him to be the flagbearer.
"It is a great honour for me to lead the Indian contingent and carry the country's flag at such a prestigious event. As far my preparations for the Asian Games are concerned, I want to say that I am not thinking about any medal or rank, all I want to do is give my best there," said the 20-year-old athlete.
Neeraj has top class credentials by virtue of being the first Indian to win a gold medal at a World Championships. This came courtesy his victory at the 2016 World Youth Championships.
Neeraj has maintained his fine form this year, consistently throwing the javelin beyond the 85m mark and also has set a new national record of 87.43 at the Doha Diamond League in May.
In fact, the five best throws by an Asian athlete this year are all in his name.
He has no shortage of titles too. The most significant was the gold medal in the Commonwealth Games at the Gold Coast, Australia which made Neeraj only the first Indian javelin thrower to win that competition.
Amongst his competitors in Jakarta is Chinese Taipei's Chao Tsun-Cheng, who holds the Asian record of 91.36m.
However Cheng has been very inconsistent and has failed to produce his best throw when it has mattered most.
At the Asian Championships last year, there had been great expectations from Cheng but he only managed to take sixth place with an effort of 80.03m. At that competition it was Neeraj who had romped to the gold medal with a throw of 85.23m.
While Neeraj will be bidding for gold, his compatriot Shivpal Singh could also get on the podium.
Singh qualified for the Asian Games with a throw of 82.28m at the Inter State Championships. That mark leaves him in fourth place this year amongst Asian throwers. However with a bit of luck there is no reason why two Indians can't stand on the podium.
Neeraj flew directly to Jakarta from Finland, where he was training with National javelin coach Uwe Hohn of Germany.
"These three-four months in Europe have been very productive and I got a chance to compete in a lot of competitions in between. I am feeling good and as I said, my only target is give my best in Jakarta," said Neeraj.