India's C A Bhavani Devi has won the gold medal in the sabre event of the Tournoi World Cup Satellite Fencing Championship held at Reykjavik in Iceland on Saturday.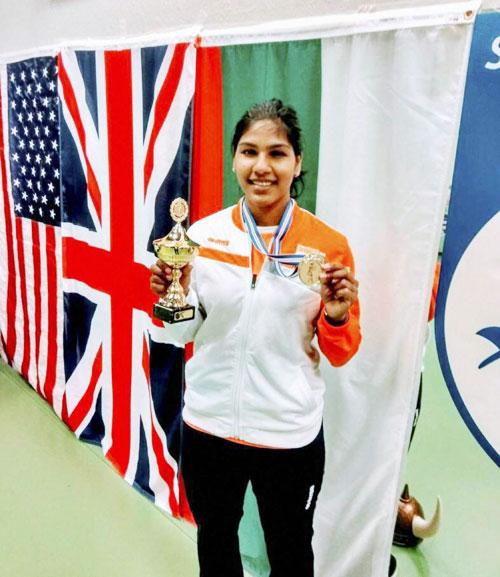 In the final, she beat Sarah Jane Hampson of Great Britain 15-13 on points.
The Chennai woman had beaten another British fencer Jessica Corby 15-11 in the semi-final.
The release said Bhavani Devi became the first Indian to win a gold medal in an international fencing event. She had previously won a silver medal in a satellite event.
She now trains at the Sports Authority of India centre at Thalassery.
"This is my third time in this competition. I have lost in quarter-finals in previous years. Now I have won my first medal. It is also the first medal in world level competition as I have won medals in Asian and Commonwealth championships," a delighted Bhavani told PTI from Reykajvik.
The competition was tough from the quarter-finals onwards, she said and added that in the semi-final and final, the British fencers made her work very hard for victory.
Image: India's fencer CA Bhavani Devi from Tamil Nadu, after winning the gold medal at World Cup Satellite Fencing Championship at Iceland on Saturday
Photograph: PTI