IOC President Thomas Bach presents Rai Jitu of India with his gold medal in the 50m Pistol Men's event at Ongnyeon International Shooting Range during the 2014 Asian Games in Incheon, South Korea, on Saturday. Photograph: Chung Sung-Jun/Getty Images
India's in-form shooter Jitu Rai gave the country its first gold medal in the 17th Asian Games, cutting through a tough field to finish on top in the 50m pistol event in Incheon on Saturday.
The World No 5 showed tremendous grit and concentration to beat back the challenge from strong contenders like Wang Zhiwei of China and South Korea's two-time Olympic champion and reigning world champion Jongoh to win the gold.
In fact both Zhiwei and Jongoh were eliminated in the race early on leaving only the Indian ace and unheralded Vietnamese Hoang Phuong Nguyen fighting for the gold.
It needed the last set of shots to decide the issue in favour of Rai. He shot 8.4 after the nervous Vietnamese was way off the mark to fire a poor 5.8 to win the gold.
Fresh from his 50m Pistol silver in the World Championships, the Lucknow-based marksman completed a grand double as he had won a gold in the Commonwealth Games in Glasgow earlier this year.
He thus became only the second Indian pistol shooter to clinch an Asian Games title after Jaspal Rana and the fourth shooter overall after shotgun experts Randhir Singh in 1978 and Ronjan Sodhi in 2010.
"I wanted to win this gold badly and was under a lot of pressure. The competition here was even more than in the Commonwealth Games or the World Championship. I am happy that I could fulfill my wish," Rai said.
He qualified seventh for the final with a tally of 559.
National pistol coach Pavel Smirnov later praised Rai, describing him as a very strong character.
"He's very strong mentally. There had been lot of competitions this year leading into the Games, the CWG, the world championships. He's mentally strong and that's why he could do it," Smirov said.
Bronze for super-shooter Shweta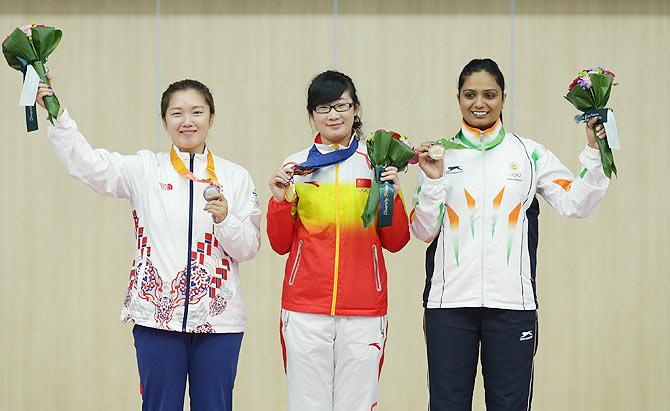 Gold Medalist Mengyuan Zhang of China (centre), Silver Medalist Jung Jee-Hae of South Korea (left), and Bronze Medalist Shweta Chaudhry of India celebrate on the podium after winning their medals in the 10m Air Pistol Women's event. Photograph: Chung Sung-Jun/Getty Images
Earlier, rising shooting star Shweta Chaudhry, stayed true to her billing, winning bronze in the 10m air pistol event.
The Faridabad-born Shweta had to eliminate a rival through a shoot-off to ensure the bronze in the women's 10M Air Pistol event with a total tally of 176.4 at the Ongnyeon shooting range in Incheon.
China's Zhang Mengyan won the gold with 202.2 while host country South Korea's Jung Jee-Hae secured the silver with 201.3.
Having qualified for the 8-woman finals with a total score of 383 even as her more fancied teammate Heena Sidhu was eliminated after notching up 378, Shweta, 28, showed exemplary poise to fight her way back in the finals.
She managed to stave off early elimination by being the third best after the first eight shots, having recovered from the 6th position.
Saina, Sindhu ensure passage into team quarters
India shuttler Saina Nehwal in action. Photograph: Nils Meilvang/Scanpix Denmark/Reuters
Shuttlers Saina Nehwal and P V Sindhu hammered their respective rivals in straight games as India opened their Asian Games' badminton campaign with a 3-0 triumph over Macau China, on Saturday, to enter the women's team event quarterfinals.
The entire tie lasted just under 90 minutes as the Indians outplayed their rivals with clinical precision.
Saina opened the proceedings for the team and hardly broke a sweat before thrashing Kit Ieng Wong 21-6, 21-4 in 21 minutes flat.
Sindhu was also in rampaging form and beat Teng Iok U 21-8, 21-9. Sindhu, who won a bronze medal in the Glasgow Commonwealth Games, took just 24 minutes to wrap the issue in her favour.
In the doubles match, N Sikki Reddy and Pradnya Gadre faced some stiff challenge from Zhibo Zhang and Rong Wang before prevailing 21-16, 21-17 in the 32-minute contest.
However, the men's team was outplayed by the home side 0-3.
K Srikanth and Commonwealth Games gold-medallist Parupalli Kashyap went down in contrasting fashions while the doubles team of Sumeeth Reddy and Manu Attri also failed to come good.
Srikanth was the first to take the court and was hardly a match for Wanho Son, who won 21-14, 21-8 in 37 minutes.
The doubles match was also dominated by South Korea who clinched the match in 35 minutes with a 21-12, 21-9 margin to take a formidable lead.
In the crucial third match, Kashyap was up against former world number one Hyunil Lee. The Indian displayed fine form by taking the opening game 21-6 in 12 minutes but it was all downhill from there on.
Lee bounced back remarkably to clinch the next two games 21-14, 21-10. Kashyap fought hard in the decisive third game, which lasted 44 minutes, but fell short in the final analysis.
Indian weightlifters off to a disappointing start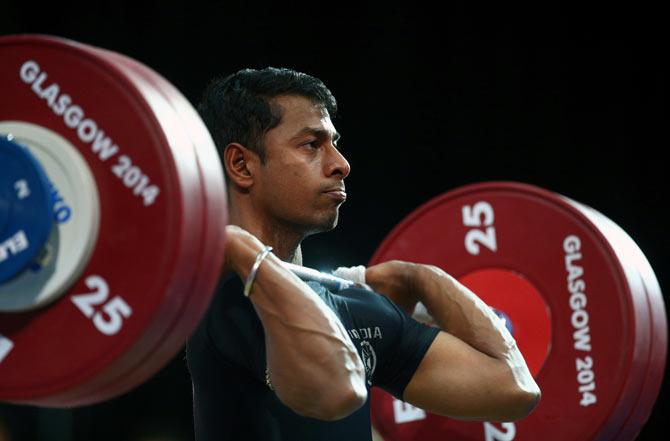 File picture: Sukhen Dey of India competes in the Clean and Jerk at the 2014 Commonwealth Games in Glasgow. Photograph: Paul Gilham/Getty Images
India started their weightlifting campaign on a dismal note as all three of them who took the field finished in the bottom half of the table in their respective weight categories in both men's and women's divisions at the Asian Games.

In the women's 48kg category, Khumukcham Sanjita Chanu and Saikhom Mirabai Chanu -- the gold and silver medallist of the Glasgow Commonwealth Games -- came a cropper by finishing tenth and ninth respectively in a field of 13 weightlifters.

Another Commonwealth gold medallist Sukhen Dey, meanwhile, finished a lowly 12th in men's 56kg category out of 14 lifters.

Placed in Group B of men's 56kg, where six lifters competed, Sukhen ended at fifth place with a total of 242kg (106+136).

Mirabai lifted a total of 75kg in snatch, and 96kg in clean and jerk for an overall effort of 171kg, while Sanjita could lift only a total of 166kg (73+93).

Kazakhstan's Margarita Yelisseyeva ran away with the gold in the women's 48kg category with an effort 194kg (88+106), while Sri Wahyuni Agustiani of Indonesia settled for a silver with a lift of 187kg (80+107) and Togoeva Mahliyo of Uzbekistan bagged a bronze with a total of 187 (81+106).

In the men's 56kg, North Korea's Om Yun Chol won the gold with a total of 298kg, which is now the new Asian Games record. He lifted 128kg in snatch before a world record 170kg effort in clean and jerk.

Thach Kim Tua of Vietnam (total of 294kg) pocketed a silver and China's Wu Jingbiao (288kg) finished with a bronze.
Indian women's tennis team enjoy opening win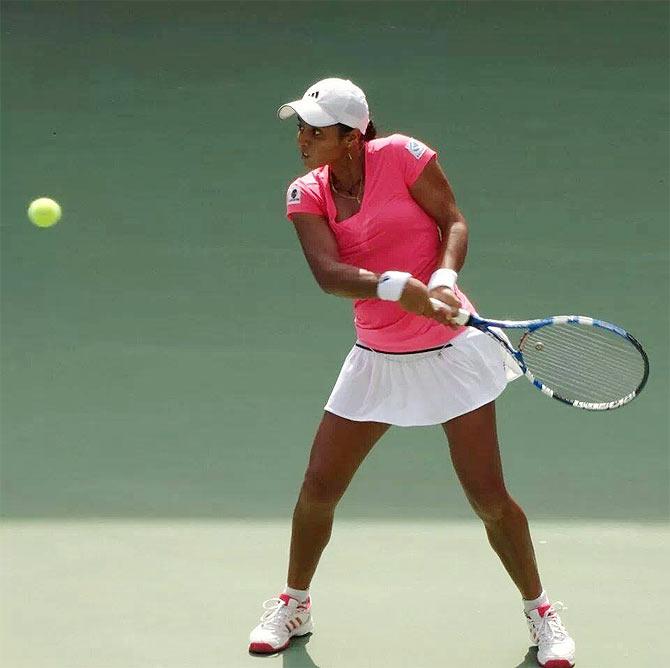 Ankita Raina. Photograph: Ankita Raina/Facebook
The Indian women's tennis team got off to a winning start in the 17th Asian Games as it blanked Oman 3-0 in the first round.
Prarthana Gulabrao Thombare and Ankita Raina notched up contrasting singles victories before the pairing of Natasha Marie Anne Palha and Rishika Sunkara was handed a walkover in the doubles match.
Thombare started the tie for India and dropped just one game to beat Sarah Abdulmajeed Rasheed Balushi 6-0, 6-1 in a match which lasted 52 minutes.
Ankita had to work hard for her win over Fatma Talib Sulaiman Al Nabhani. She squandered the opening set win before getting her act together to clinch the match 6-4, 2-6, 6-3 in nearly two hours.
With an unassailable lead in hand, the doubles rubber was not much of consequence for the Indians, who were saved of the toil courtesy the walkover.
Dipika, Joshna set up quarters clash; India assured of medal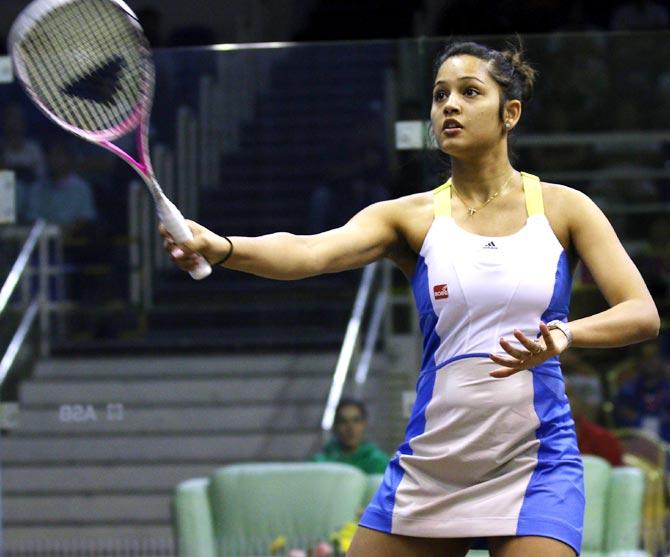 File picture: Dipika Pallikal in action. Photograph: Stanley Chou/Getty Images
India is assured of its first ever women's singles medal at the Asian Games after top players Dipika Pallikal and Joshana Chinappa won their respective openers and set up an exciting contest in the
quarter-finals.

World No.21 Chinappa blanked 183rd ranked South Korea Song Sunmi 11-9, 11-7, 11-7 at the Yeorumul Squash Courts in Incheon.

Later, World No.12 Pallikal stepped on the court against 150th ranked Jinyue Gu of China. The highest-ranked Indian slipped a bit before prevailing 11-6, 10-12, 11-6, 11-4.

The team mates face each other in the last eight match on Sunday, less than two months after winning India's first ever squash medal at the Glasgow Commonwealth Games, where they won the women's doubles gold.

The winner will be assured of a medal as the losing semi-finalists get a bronze each in the quadrennial event.

Both Pallikal and Chinappa have called the draw "unfortunate" and the former had even considered a pullout claiming "manipulation".

The face-off will be pulsating nonetheless. Both players know each other's game very well and the difference in their rankings is going to count little.

India has so far won four medals (all bronze) at the Asian Games since the sport was introduced in the 1998 Bangkok edition. Two of them have come courtesy Saurav Ghosal and the rest in men's and women's team event.

Indian men struggle past Hong Kong in volleyball opener

India's spikers were given a tough time by an unfancied Hong Kong before they prevailed 3-1 in the opening group league game of the men's volleyball event.

India won 23-25, 25-18, 25-16, 25-21 against a spirited Hong Kong side which is atleast 90 places below them.

It wasn't one of the most convincing performance from the Indian men, as there were too many errors at the net and also the performance of the libero Sivasubramanium Kanagaraj left a lot to be desired.

However it was the tallest man in the court -- G R Vaishnav, standing at 6 feet 9 inches, whose timely interceptions and smashes was one of the reasons that India overcame their first hurdle.

Vaishnav scored 13 points while team mates Prabhakaran and Gurinder Singh contributed with 15 points each. However, Prabhakaran did struggle in the first game as he was unable to consistenly place his smashes which led to a number of retrievals by opposition libero Kin Pong Jonathan.

Having conceded the first set at 23, the Indians did well to open an 10 point lead in the second set before winning it at 18.

The third set also went India's way as they got the momentum going in their favour.

The young Hong Kong spikers did make a vailiant attempt to level proceedings in the fourth set as they lead 16-14 till the final time-out.

However, it was Punjab lad Gurinder, who was in his element as his killer smashes opened up lead at 20 and Indians finished it off at 25-21.

Indian male cagers off to a winning start

India's mens team started their Asian Games campaign on a resounding note, thrashing a lowly Palestine 89-49 in their opening Group B basketball encounter at the Hwaseong Sports Complex Gymnasium.

India dominated Palestine in all the four quarters with Amjyot Singh turning out to be the highest scorer for the formers with 25 points.

The Indians raced to a 20-6 lead in the first quarter and then extended it to 40-23 at the second break.

Palestine tried to make a comeback of a sort in the third quarter but the Indians managed to hold on to their lead to go into the penultimate break leading 68-41.

The last quarter completely belonged to India as they toyed with Palestine defence to pocket the tie in their favour.

India will take on Saudi Arabia in their next group match on Sunday.
Indian handball team loses opening match to Chinese Taipei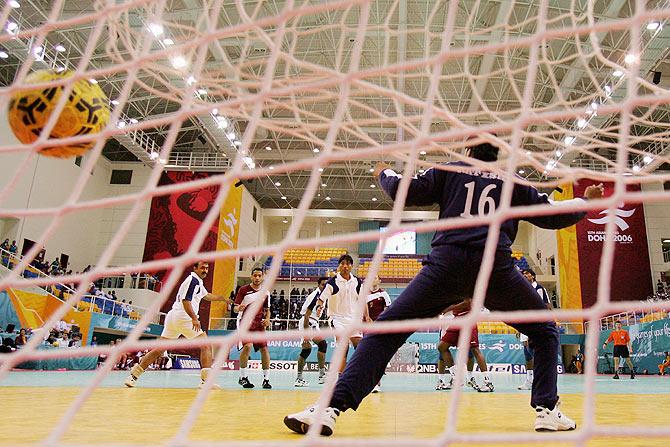 Goalkeeper of India fails to save a goal. Photograph: Julian Finney/Getty Images for DAGOC (This image is for representational purposes only)
The Indian handball team started its Asian Games campaign on a disappointing note, going down 20-39 to Chinese Taipei in their opening Group D match.
In a rather lopsided contest, the Indian were trailing 11-24 at the end of the first 30-minute period before losing the next period 9-15.
Mahesh Vijay was the top-scorer for the Indians, netting five goals in nine attempts, while Manpreet Singh Bassi, Vasu Binu and Avin Khatkar contributed three each.
For the Taipei team, Yi-Fan Chiu stole the limelight by converting eight of his nine shots at the goal. Hsien-Chang Chao scored five goals, while Hsin-Wei Huang and Hui-Hsiung Wang netted four each.
In total, Chinese Taipei had 61 shots at the goal, much higher than India's 45 attempts. The Taipei team was also distinctly better in its defence, with its goalkeepers pulling off 19 saves.
The Indian goalkeepers, however, managed to keep out just nine of the 48 shots fired at them.
Kalpana Devi misses bronze as Indian judokas disappoint

Judoka Thoudam Kalpana Devi missed out on a bronze medal after losing her repechage bout against Kazakhstan's Lenariya Mingazova in the 52 kg category to end a disappointing day for India on the mat at the Asian Games.

After a high at the Commonwealth Games, the Indian judokas were brought back to earth by some of the much superior Asian opponents.

Save Kalpana, who reached the bronze medal (repechage) bout, the two other Indians Navdeep Chana (men's 60 kg) and Likmabam Sushila Devi (women's 48 kg) were eliminated in the earlier rounds.

Kalpana won her pre-quarter-final match against Devika Khadka of Nepal before losing out to Ma Yingnan of China, who eventually reached the final.

Getting a chance for repechage bout, Kalpana got past Ju Pie Lien of Chinese Taipei to set up a bronze medal bout with the Kazakh judoka. However ger opponent proved to be strong for her as she got an 'Ippon' on her way to bronze medal.

Among the others, Chana, a silver medallist at the recently concluded Glasgow Asian Games, lost his 60 kg pre-quarterfinal bout against Boldbaatar Ganbat of Mongolia after having beaten Abdulla Almaraghy of Kuwait in the first round.

L Sushila Devi beat Uzbekistan's Mukkadas Kubeeva in the pre quarter-final before losing to Asian champion and World no. 5 Emi Yamagishi of Japan as the champion judoka got an 'Ippon'.

With Yamagishi reaching the final, Sushila got a a chance in the first round repechage Wu Shugen of China.

The only Indian judoka left in the fray is Rajwinder Kaur in the 75 kg category.