News of all that transpired on and off the football field.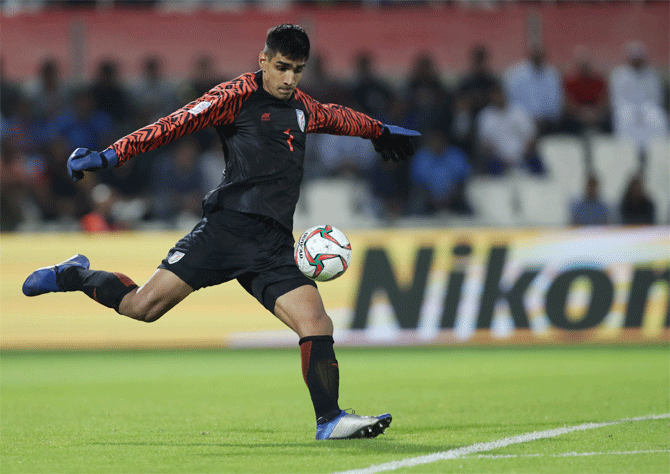 Former Indian football team captain Bhaichung Bhutia believes that youngsters should make sacrifices and take the gamble of playing for a foreign club to enhance their skills.
"I would suggest young players in India to take a gamble and play for a club abroad. You will need to make sacrifices and it may not pay as well as what a top player in India earns. However, once you reach the age of 25-26 years, then you can look into the financial aspect," Bhutia told AIFF TV.
"I agree with what Venkatesh said (in an earlier chat with AIFF TV). Our players do not have to play in the top European leagues. They can play in Asian countries like China, Japan, Korea, Qatar, UAE or countries like Belgium, for example," he said.
Bhutia became the first Indian player to play over 100 international matches. During his illustrious career, Bhaichung spent three years with English club Bury FC and later went on to have two stints in Malaysia -- with Perak FA and then Selangor MK Land, respectively.
The striker who has been inducted in the AFC Hall of Fame highlighted how playing abroad helped him improve as a player, and made him understand "what professional football is all about".
"Playing abroad teaches you a lot. If not technical-wise, it certainly gives you an idea of what professional football is all about and how the business of football works. As a player, you improve and learn. My experience with Bury FC was really good. It definitely made me aware of the kind of player I am and helped me improve myself," he explained.
Bhaichung cited the example of Gurpreet Singh Sandhu, who spent three years with Norwegian club Stabaek FC -- where he became the first Indian to play in the UEFA Europa League. He returned to India in 2017, at the age of 25, signing for Bengaluru FC.
"Gurpreet is a good example. He had done really well playing in Norway and made great strides -- even featuring in the Europa League. These clubs may not pay as well but it is a sacrifice you have to make. Gurpreet took the call to come back to India as they (Stabaek FC) were not paying him the amount that he would receive here (in India)," the veteran striker said.
Jamshedpur FC appoints Owen Coyle as new head coach
Ahead of the Indian Super League (ISL) 2020-21 season, Jamshedpur FC has signed Owen Coyle as their new head coach.
Coyle comes fresh of spectacular performance in the 2019-20 ISL season, where he took the then bottom-placed club to the tournament finals. The 54-year-old is distinguished by his style of attack-minded football seen in all his previous stints.
"Jamshedpur has a tremendous football legacy. The club has all the right things in place, starting with its vision and translating into a robust foundation of grassroots, youth, Tata Football Academy, and required infrastructure such as fantastic training and accommodation facilities at par with some of those in Europe," Coyle said in a club's official release.
"The vociferous fans have been amongst the best in ISL over the past three seasons, which I had the opportunity to see while soaking in the atmosphere in my debut game in India at the Furnace. This club deserves to be competing at the pinnacle of the ISL and nothing less, and I am excited and honored to have been entrusted with the task," he added.
Coyle is a former English Premier League manager of Bolton Wanderers and Burnley and has also managed Houston Dynamos in Major League Soccer.
Under Coyle, Bolton reached the FA Cup semis in his first season in-charge, and he was awarded the Premier League Manager of the Month thrice during his tenure. He later moved on to Wigan Athletic in the English Championship, followed by his first stint outside Europe with Houston Dynamos in USA's Major League Soccer (MLS) in 2014.
He then returned to the English Championship with Blackburn Rovers in 2016, followed by a short spell at Ross County in Scotland before his move to India in 2019.
Chanakya Chaudhary, Chairman Jamshedpur FC, underlined the importance of having the Scotsman on board.
"We're delighted to bring Owen Coyle to Jamshedpur FC. He has proven credentials and shares the ambitions of the club, which was evident in our fruitful discussions. He is known to bring out the best from experienced players as well as younger ones while inculcating a winning mentality. This made his appointment an easy decision," Chanakya said.
"The Jharkhand community has been supporting the beautiful game for long, very evident from the 75-year-old Jamshedpur Sporting Association league, and we are sure this huge fan base will be delighted with the appointment," he added.
Coyle will be joined by Sandy Stewart as the assistant coach. Sandy has been the assistant manager at several clubs in Scotland, England and the United States, working with Owen Coyle.
No disappointment if Willian leaves Chelsea, says Lampard
Chelsea boss Frank Lampard said he is unsure if Brazilian winger Willian will remain at the English Premier League soccer club next season but expects no bitterness from both parties if he does depart.
British media has reported that Willian is on the verge of joining Chelsea's London rivals Arsenal on a three-year deal after his current employers only offered him a two-year extension which left him disappointed.
The 31-year-old Willian's contract expires at the end of Chelsea's Champions League campaign. Lampard's side take on Bayern Munich in the last-16 second-leg on Saturday, a game Willian will miss due to an ankle injury.
"I haven't got an answer" about whether Willian will leave, "because Willian remains our player at the moment. It actually doesn't matter about disappointment from any party in this situation," Lampard told reporters.
"Certainly as a club we have done everything we can to explain to Willian, and mine and his relationship is close. I'd have no feeling of disappointment if he does move on.
"I've played with him, coached him, he's a fantastic man and a fantastic player. He'll feel like that about Chelsea... But I don't want anyone to try and find a negative attitude, because the club have acted very well in this as well."
Willian has scored 63 goals and provided 62 assists in 339 appearances for Chelsea since his arrival from Russian club Anzhi Makhachkala in 2013.
Lampard also confirmed that Chelsea winger Christian Pulisic faces six weeks out with a right hamstring injury that could see him miss the start of the English Premier League.
The American was injured last Saturday in the 2-1 loss to Arsenal in the FA Cup final after scoring at Wembley Stadium.
"With Christian Pulisic I think it's going to be touch and go for the start of the season," Chelsea manager Frank Lampard said on Friday.
"We're probably looking around a six-week injury. So with six weeks, doing the maths, it gets very close to, and is probably into, the start of the new season. But we have to treat it right, the injury."
The season is due to begin on September 12.
Pulisic had 11 goals and eight assists in his first season at Chelsea after joining from Borussia Dortmund.
Ronaldinho moves closer to release from Paraguayan ordeal
Former World Cup winner Ronaldinho Gaucho moved a step closer to ending his Paraguayan ordeal on Friday when prosecutors said they would not oppose a "conditional suspension" of the case that would allow him to return to Brazil.
The twice World Player of the Year was arrested on March 6 along with his brother and business manager Roberto Assis after they tried to enter Paraguay with adulterated Paraguayan passports.
They were held in jail for 32 days before being conditionally released on April 7 after paying $1.6 million in bail.
Ronaldinho, the former Barcelona, Paris St-Germain and Flamengo player who turned 40 while in jail, has been held under house arrest in a Paraguayan hotel for four months since.
According to a document seen by Reuters on Friday, and also reported in Paraguayan and Brazilian media, prosecutors in the case said they found "no elements to prove that Ronaldo de Assis Moreira had a direct participation in obtaining the irregular documents."
They have recommended that Ronaldinho be released after paying a $90,000 fine and identifying a fixed abode in Brazil. He would also have to present himself to Brazilian authorities every three months.
Officials asked for a two-year suspended sentence and a $110,000 fine for his brother Roberto but agreed to let him leave Paraguay.
They said that while Ronaldinho was unaware he was using an adulterated passport, Roberto knew.
Both men have said they were innocent and their lawyer has always mantained their detention was "arbitrary, abusive and illegal."
The judge is expected to set a date for the hearing next week.
Bundesliga to have shorter winter break next season
The Bundesliga season kicks off on September 18 with champions Bayern Munich taking on Schalke 04 and will only have an 11-day winter break as the German Football League (DFL) adapts the schedule amid the COVID-19 pandemic.
The DFL on Friday said Bayern would face Schalke in the season opener but should the Bavarians reach the Aug. 23 Champions League final they would be given a few extra days to rest. Borussia Dortmund launch their season against Borussia Moenchengladbach.
Clubs will have a shorter than usual winter break with the season stopping on Dec. 21 and resuming on Jan 2 to fit in national team obligations and matchdays for European competitions. Bundesliga winter breaks in the past were as long as six weeks sometimes.
The last season was interrupted for two months by the pandemic before resuming in May and finishing in late June.
The German Supercup between double winners Bayern and league runners-up Dortmund will be played on September 30.
The DFL is working on a concept to allow a limited number of fans in the stadium when the season restarts. The German government has banned spectators from all major events until Oct. 31.
Wolves reach settlement agreement with UEFA after FFP breach
Wolverhampton Wanderers will be allowed to register only 23 players instead of 25 if they qualify for the Champions League next season after breaching UEFA's Financial Fair Play (FFP) rules, European soccer's governing body has said.
In a statement released to British media, UEFA said Premier League side Wolves had reached a settlement agreement with it under which the club will pay 200,000 euros ($235,720.00) in fines which could rise up to 600,000 euros.
FFP regulations aim to stop clubs running big losses through spending on players.
"The settlement agreement covers the sporting seasons 2020-21 and 2021-22," UEFA said in the statement.
"Wolverhampton Wanderers undertakes to report a maximum break-even deficit of 30 million euros in the financial year ending in 2020 and to finally reach, in the 2021-22 season, an aggregate break-even result for the financial years ending in 2019, 2020 and 2021 within the acceptable deviation.
"Wolverhampton Wanderers FC accepts that, for the season 2020-21, it may only include a maximum of 23 players in its List A for the participation in UEFA competitions, instead of the maximum of 25 players."
UEFA said the squad restrictions would apply for the 2021-22 campaign unless the club fulfils all financial measures.
Wolves, who take on Sevilla in the quarter-finals of the Europa League, can qualify for the Champions League next season if they win Europe's second-tier club competition.
Van Persie joins Feyenoord to see if he takes to coaching
Robin van Persie said he has joined Feyenoord Rotterdam's staff to help their forwards with their finishing -- although he is not sure what his exact title is -- and to see whether coaching is something he might like to pursue.
"It is not an official function. That's why I find it difficult to give it a name. For example, I don't see myself as a striker coach. I think it's a win-win situation: I'm going to find out here if I like this and I help the staff a bit," he told the Dutch media on Saturday.
Coach Dick Advocaat is trying to persuade the 37-year-old to join his staff. The pair previously worked together at Turkish club Fenerbahçe.
"I was supposed to join last season, but that didn't happen. Dick called me and asked if I wanted to come. And you can't say no to Dick."
Van Persie ended his playing career at Feyenoord a year ago after returning to the club where he began his playing career as a teenager.
In between he had success at Arsenal, Manchester United and Fenerbahçe and won 102 caps for the Netherlands.
"Over the past year I have only done things that I enjoy," said Van Persie.
"I worked as an analyst in England, I travelled a lot with my family. Now I'm going to see if this is also something I enjoy."