Top seed Caroline Wozniacki battled her way into the last eight at the Indian Wells WTA tournament on Tuesday while twice champion Kim Clijsters retired hurt with a painful shoulder.
Denmark's Wozniacki recovered from a poor start to beat 22nd-seeded Alisa Kleybanova 2-6, 6-3, 6-1, breaking the Russian three times in the final set to seal victory in just under two hours.
However world number two Clijsters conceded her fourth-round match to Frenchwoman Marion Bartoli 3-6, 3-1, largely as a precaution with Fed Cup duties and the claycourt season fast approaching.
Bartoli, the 15th seed, advances to the quarter-finals where she will face 19th-seeded Ana Ivanovic, a 6-4, 6-2 winner against fellow Serb and defending champion Jelena Jankovic earlier on Tuesday.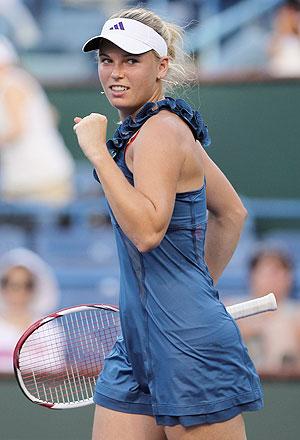 Although Clijsters had won the opening set on the hardcourt surface, she summoned her trainer for treatment on her shoulder when trailing 1-2 in the second and withdrew one game later.
"It's not that I'm really, really worried about it, but it is something that I have to pay attention to and that I don't want to risk," the 27-year-old Belgian, champion here in 2003 and 2005, said.
"Can I take painkillers for it and not feel it during a match? Yes, I think so but I don't want to risk tearing it. I don't want to be ... taking medication to cover the pain, not knowing if it's getting worse during my match."
The Belgian said her shoulder pain was mainly affected by serving and trying to hit high forehands.
"A couple of times today when she wrong-footed me and I went out for my backhand where I tried to do this, I could just feel it in the back," Clijsters added.
BREAKPOINT CHANCES
Sixth-seeded Jankovic, who beat Wozniacki in last year's final, converted only one of seven breakpoint opportunities as she was beaten by Ivanovic for the first time in their last three meetings.
"I felt like my game was not really there. I wasn't really doing the right things out there," Jankovic said after being broken once in the opening set and three times in the second.
"A lot of times I felt stuck on my shots and I didn't really move up to the ball as well as I was doing in the previous matches," added the 26-year-old Serb, who had reached the semi-finals in her last three tournaments.
"Probably one of the worst tennis matches I've played since I started playing these (last) couple of tournaments where I have made pretty good results."
Nineteenth-seeded Ivanovic, who beat Jankovic in the 2008 semi-finals at Indian Wells on her way to winning that year's title, improved her overall win-loss record against her compatriot to 7-3.
"I'm really happy," said Ivanovic, runner-up at Indian Wells in 2009. "I played some good tennis in past few weeks, as well. But to have it all the way through and play consistent on that level, I'm really pleased with."
Jankovic, who had been bidding to become the second woman, after Martina Navratilova in 1991, to win back-to-back titles here, applauded Ivanovic's display.
"She played such a great match today," the Serbian world number six said. "She really didn't make a lot of unforced errors. She hit the ball pretty clean, pretty solid. I felt really flat and she took advantage of all that."
In other matches, French Open champion Francesca Schiavone of Italy, the fifth seed, was upset 6-4, 3-6, 7-6 by 10th-seeded Israeli Shahar Peer while eighth seed Victoria Azarenka of Belarus scraped past ninth-seeded Pole Agnieszka Radwanska 4-6, 6-3, 7-6.