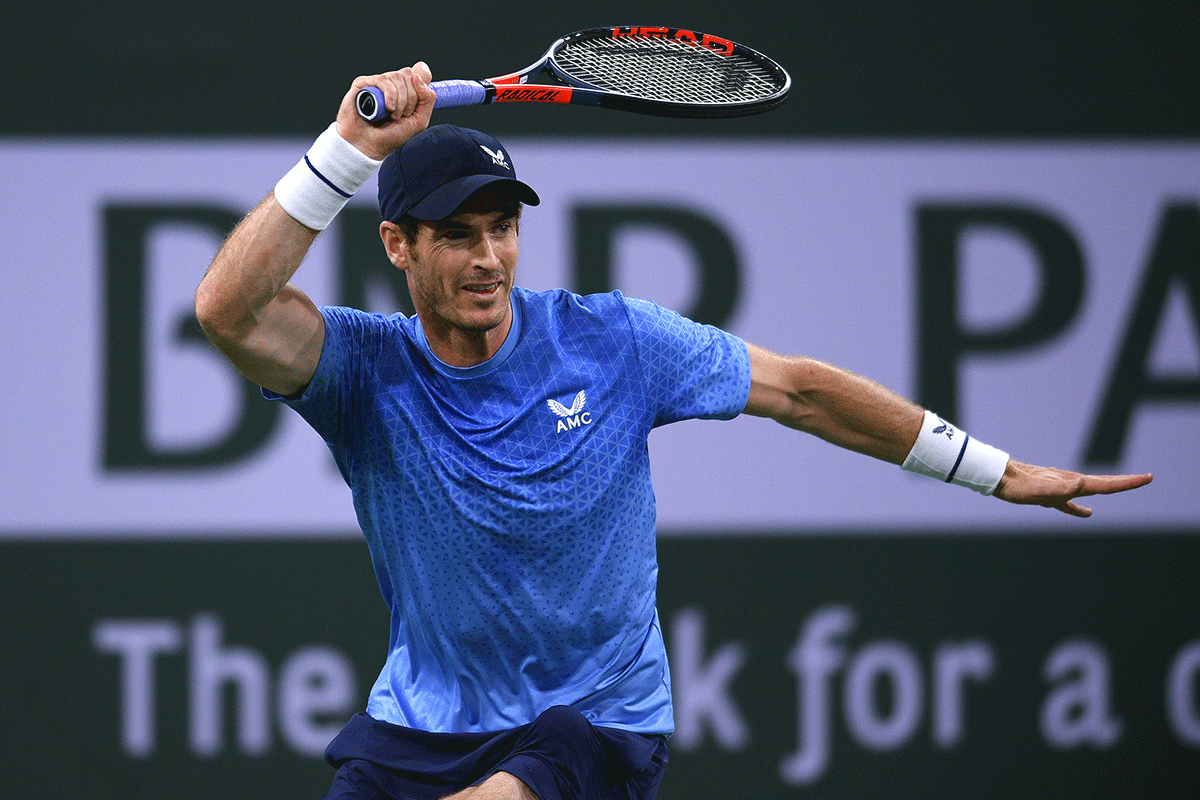 After reuniting with his stinky shoes and wedding ring, Andy Murray was back in business as the former world number one sealed a comfortable 6-3, 6-2 win over Frenchman Adrian Mannarino in the first round of the Indian Wells tournament on Friday.
Murray was the talk of social media this week as he asked for fans' help in finding his items that went missing after training for the event in the California desert.
The Briton was happy with his performance, firing five aces and striking 19 winners to secure his first victory at the Indian Wells since 2016, but said the missing items dilemma before the match nearly pushed him to contact the police.
"I spoke to the lost and found at the hotel... they said they'd found nothing. I spoke to security. They said they found nothing," Murray said.
"I was going to file a police report to try to get them back or increase my chance of getting them back.
"(The hotel) decided to take all of my details down. I asked them if they could look at the cameras... about an hour later, one of the employees at the hotel found them in their lost and found."
Murray will face 18-year-old Spaniard Carlos Alcaraz in the second round as he looks to improve on his best career finish at the tournament in 2015, when he reached the semi-finals.
The 34-year-old, who had hip surgeries in 2018 and 2019, has struggled to reclaim the kind of form that helped him win three major titles and two consecutive Olympic singles gold medals in London and Rio de Janeiro.
"Whilst my body feels good, I want to try to play as much as I can between now and the end of the year to set myself up as best as I can for next season," he said.
Raducanu falls in first match since US Open triumph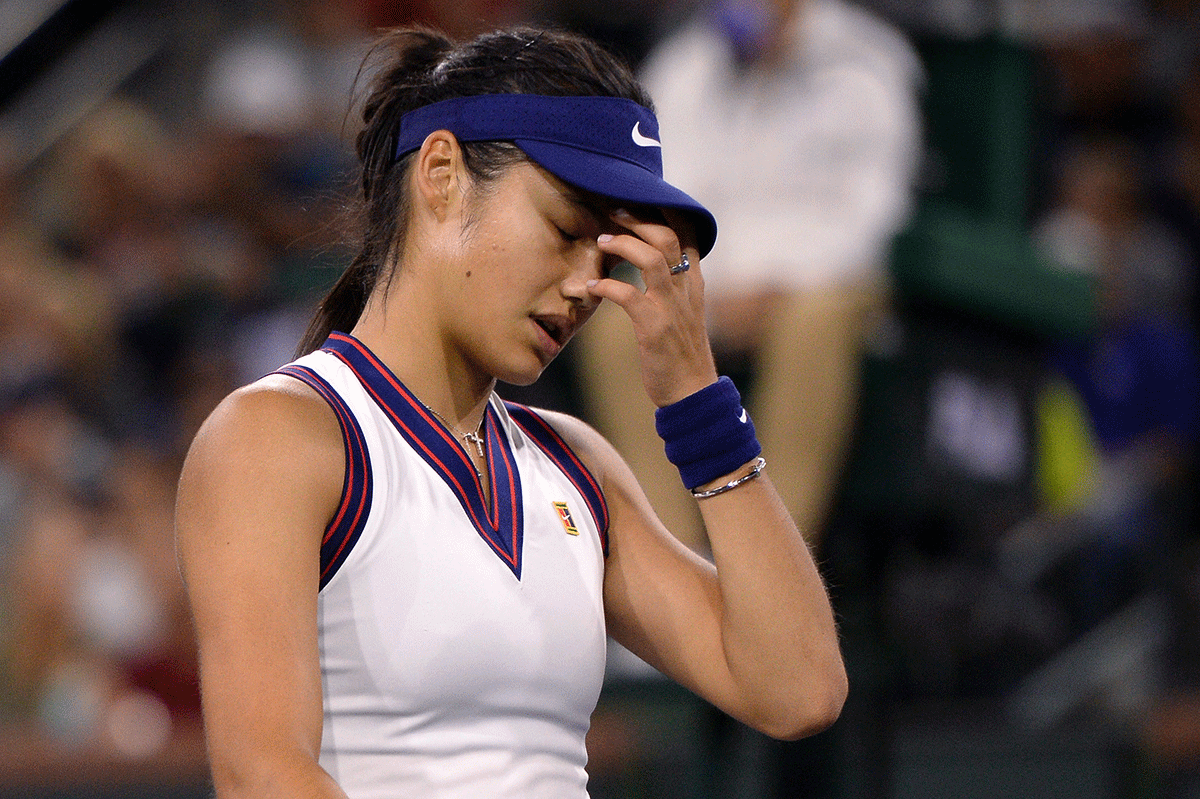 Emma Raducanu faltered in her first match since winning the US Open last month, falling 6-2, 6-4 to Aliaksandra Sasnovich in the second round of the Indian Wells tennis tournament on Friday.
The 18-year-old British sensation had an aura of invincibility at Flushing Meadows, where as a tournament qualifier she did not drop a set in 10 matches en route to her stunning maiden Grand Slam title.
But it was a different story under the lights on the stadium court as Raducanu struggled with her accuracy and energy level.
Unforced errors piled up as the night wore on and she never exuded the on-court joy that was a hallmark of her breakthrough despite a supportive crowd.
After the match, she tipped her hat to the unseeded Belarusian.
"Aliaksandra played a great match," the 17th seed said.
"She's an extremely experienced opponent who has been on the Tour for many years. She was better than me today so she deserves to win."
The match started promisingly enough for Raducanu when she held serve at love to kick off the affair in the Southern California desert.
But errors began to creep in and a locked-in Sasnovich took full advantage, floating a lob over Raducanu's outstretched racket to claim the first set.
Raducanu was broken to begin the second set but battled back to take a 4-2 lead when Sasnovich began to misfire.
The world number 100 was able to right the ship, winning the final four games and sealing the match when Raducanu sent a service return wide on match point.
Raducanu said that while she was disappointed with the result, she sees every match as an opportunity to learn.
"The experiences that I'm going through right now, even though I might not feel 100% amazing right now, I know they're for the greater good," she said.
"In the bigger picture, I'll be thanking this moment," she said.
"I'm 18 years old. I need to cut myself some slack," she added later.
In the wake of her Grand Slam triumph, Raducanu attended the Met Gala in New York, the James Bond movie premier in London and even hit-up with British Royalty and admitted she was not "match-tight" at the moment.
"I haven't played a competition in a month, since the US Open. That will just come playing week in, week out," she said.
Sasnovich will next face Simona Halep in the third round of the WTA 1000 event, which was not held last year due to the COVID-19 pandemic.
Elsewhere, making her main draw debut, US Open finalist Leylah Fernandez defeated Alize Cornet 6-2, 6-3 to advance to the third round, where she will face No.9 seed Anastasia Pavlyuchenkova.
Earlier, No.7 seed Petra Kvitova of the Czech Republic moved into the third round of the BNP Paribas Open for the seventh time in her career with a 6-2, 6-2 victory over Arantxa Rus of the Netherlands.
Kvitova will next face No. 27 seed Victoria Azarenka of Belarus, in an intriguing face-off between two-time Grand Slam champions. Kvitova leads the head-to-head 5-3.
Zverev welcomes ATP investigation into abuse allegations
Alexander Zverev welcomed an ATP investigation into allegations of domestic abuse against him, saying on Wednesday it was about time.
World number four Zverev's ex-girlfriend Olga Sharypova said in an interview with online magazine Slate on Aug. 25 that the German was emotionally and physically abusive to her during their relationship.
The ATP had faced increasing criticism for failing to look into the allegations until the men's tennis governing body announced on Monday it was conducting an investigation.
The Olympic gold medallist has repeatedly denied the allegations and now hopes an ATP investigation will clear his name.
"Bloody (time) finally to be honest," said Zverev, during his news conference ahead of the BNP Paribas Open in Indian Wells.
"I have been asking them myself for months now.
"I have been asking them to do that since London last year because it is very hard for me to clear my name.
"Only with something like this I can.
"It has been around for a year and there is not much more I can do to clear my name and I hope this will finally do it."
The 24-year-old has "categorically and unequivocally" denied having abused Sharypova and said on August 27 that his lawyers had initiated legal action against the author of the allegations.
Slate issued a statement saying it stood by its "fair and accurate reporting".
"I have been in court in Germany which I won the case against the author and the publications which the author is ignoring right now," said Zverev. "I have proven I am innocent in a lot of different ways.
"I think with this investigation that is now finally happening I hope this can be done and dusted from a third individual party and we can move on with everything else."
Zverev said the entire affair has not only been a distraction for him but the entire sport.
On the court, however, Zverev has managed to remain focused and is enjoying one of the best seasons of his young career, winning an Olympic gold medal and two Masters Series events.
"Andy Murray said it very well last week in San Diego, when stars of the game they win tennis matches, they win big matches you want to talk about that," said Zverev, who also reached the semi-finals of both the French and US Opens this year.
"I have had one of the most incredible seasons a young guy has had in the last probably 10 years winning the Olympics, winning two Masters Series, winning four tournaments and that is kind of forgotten a little bit.
"Once this situation is over, once it is done, we can go back to how it was."