Sports in India has started moving in the right direction and the impact of the six medals the country won at the London Olympics will be huge, said national badminton coach Pullela Gopichand in Mumbai on Thursday.
"It is huge. Whatever we are seeing in Indian sport, a lot was started by the 2010 Commonwealth Games. Indian sports has started to move in the right direction, which is good. All positive vibes sports is getting is thanks to the six medals in Olympics," Gopichand said.
Gopichand, who was here in his capacity as brand ambassador for a new concept - Mumbai Games - featuring nine sports among eight city teams, said for those outside the country the number of medals, comprising two silvers and four bronzes, may not look a huge haul.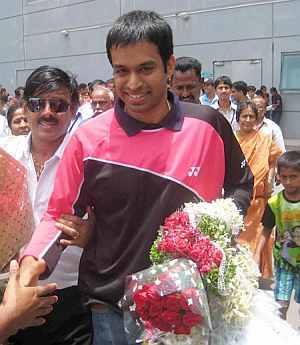 "Although it (medal haul) might be looked differently from outside the country, it is a fantastic achievement and a great push forward. It is very important that sport becomes part of everyday life, and a lot of developed nations have realised that. Health, character come from sport," said the former All England men's singles champion.
"As a country, we don't have sports as a focus. How many time do we talk about sport in the Parliament or Assembly? Nothing. All of us need to look constructively and not lose time in blaming the system. As a nation, we are young. The last thing we want is an unhealthy and old nation," he remarked.
Explaining further, Gopichand recalled an old incident that happened in Russia when he was a player.
"The Indian team was in Khabarovsk in Russia in the 1990s. We used to play badminton Test matches, India vs Russia. The liaison officer took us around to a theatre and said it was the biggest theatre for 200 people. The entire team laughed and said we have about 20 of them in a small place.
"He sounded offended and took us around to a massive sports complex. 'How many of these do you have in your country? We have 20 of them in Khabarovsk. We (sheepishly) said none," Gopichand said.
"Sports will be great if two brothers say we want to play, if a family goes out and plays. Kids will remember those quality moments. A lot of time when we go to the corporate world, the thinking is not the same (not like sportspeople) and (we) hope they have played (some) sport. Hopefully, the respect for sports grows," said Gopichand.
Photograph: SnapsIndia