The Athletics Federation of India (AFI) has pulled out dope-flunked shot putter P Udaya Laxmi from the home squad for the ongoing Asian Championships in Pune after testing positive for a banned substance.
Laxmi returned positive for stimulant methylhexaneamine in a test conducted by National Anti-Doping Agency (NADA) on her 'A' sample taken during the National Inter-State Championships in Chennai last month.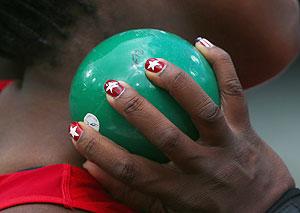 AFI Secretary C K Valson said that 39-year-old Laxmi has been ruled out of the Championships and sent back home to Andhra Pradesh on Wednesday.
"We have received intimation from the NADA about the adverse analytical finding and we have pulled her out from the Championships," Valson said.
Laxmi, who will now be put under suspension, faces a life ban as this is her second dope offence.
She was a 400 meter hurdler before turning a shot putter after she flunked a dope test during the 2002 Hyderabad National Games.
Valson said there would be no replacement for Laxmi.
"The entries have been frozen now and we cannot make any replacement (for Laxmi)."
Valson also said that elaborate dope-testing arrangements have been made with the NADA assisting the AFI and Asian Athletics Federation.
"We have made arrangement for dope testing and we have got 40 sample kits for testing of athletes," he said.
He said it was not mandatory for the medical team, which is headed by AFI's Arun Mendiratta, to take samples of all the medal winners.
"I don't think it's mandatory to take samples from all the medal winners. It will be more of random testing," he said.
One of the NADA team members who is present at the competition said that the AAA or the IAAF will take the final decision whom to take the samples from.
The samples will be sent to WADA accredited laboratories and a sample will have to be kept for at least eight years under the new rules of the World Anti-Doping Agency.
Photograph: Alexander Hassenstein/Getty Images