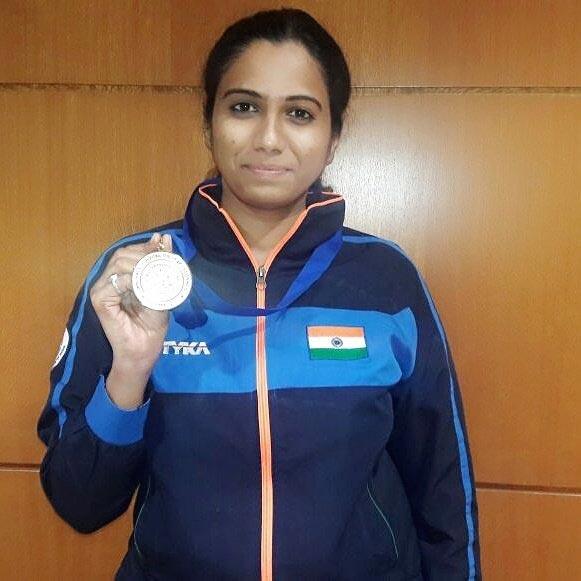 IMAGE: Pooja Ghatkar poses with her gold medal. Photograph: OGQ/Twitter

India continued their strong showing at the Commonwealth Shooting Championship, winning a gold each in the men's 10m air pistol and women's 10m air rifle events, respectively, in Brisbane, on Wednesday.

India's pistol shooters pulled off a clean sweep in the 10m air pistol event with Shahzar Rizvi, Omkar Singh and Jitu Rai winning gold, silver and bronze medals respectively.
In the women's 10m air rifle event, Pooja Ghatkar bagged a gold, while her countrymate Anjum Moudgil won the silver medal. The bronze in this event went to Martina Lindsay Veloso of Singapore, while the third Indian in the final, Meghana Sajjanar, finished fifth.

Youngster Rizvi finished ahead of established shooters Omkar and Jitu.

The day started with Shahzar topping the 16-man qualification round with a score of 581. Omkar and Jitu followed him into the eight-man final with 576 and 571 respectively.

The order did not change in the final, although Jitu led the trio briefly after the first series of five-shots with Omkar second and Shahzar in third.

Omkar then led till the 18th shot before the youngster took control from the 20th shot. By the end of the allotted 24 shots, Shahzar ended with 240.7, while Omkar came second with 236, thanks to four out of his last six shots being in the 8s.

Jitu won bronze with 214.1.

In the women's 10m air rifle, Singapore's star rifle shooter, Jasmine Xer, topped the qualification with 419.8 and her teammate, Martina Veloso shot 417.5 to finish second.

Jasmine's also manged to create a new Commonwealth qualification record.

Meghana, with 416.6, Pooja with 415.3 and Anjum with 414.1 qualified in third, fourth and sixth positions respectively.

In the eight-woman final however, it was Anjum who started the strongest, leading the field after five shots. But Pooja soon showed her class, to take the lead after 10 shots and held on to win with a final score of 249.8.

Anjum ended with 248.7 to win silver while Veloso won bronze with a score of 224.8. Meghana shot 183.8.

Ghatkar is supported by the Gagan Narang Sports Foundation.

In the men's Skeet, the Indian trio of Mairaj Ahmad Khan, Angad Vir Singh Bajwa and Sheeraz Sheikh shot 119 each out of 125 in qualification to get into a shoot-off and qualify for the finals.

Mairaj and Angad made it through to the six-man final to eventually finish fifth and sixth respectively.

On the first day, India had won gold in the women's 10m air pistol through Heena Sidhu and a bronze in the men's 10m air rifle through Deepak Kumar.