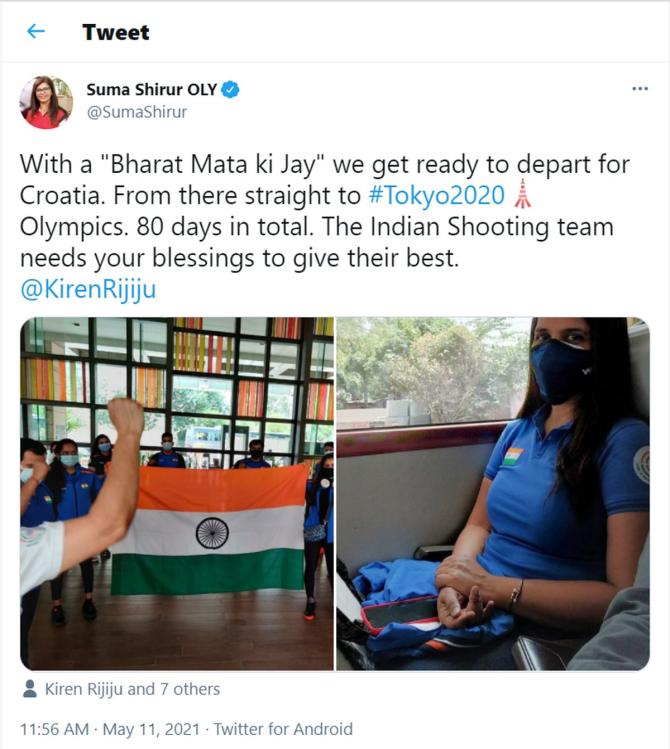 A 15-member squad of Indian shooters, who have qualified for the Tokyo Olympics, departed for Zagreb, Croatia, for training ahead of the Games.
'With a "Bharat Mata ki Jay" we get ready to depart for Croatia. From there straight to #Tokyo2020 Olympics. 80 days in total. The Indian Shooting team needs your blessings to give their best,' tweeted Shoma Shirur, the high performance specialist coach who is travelling with the shooters to Croatia.
The shooters will compete in the European Championships in Osijek, Croatia, from May 20 to June 6 before participating in the combined ISSF World Cup in the same city, from June 22 to July 3.
'Our endeavour is to ensure that our Tokyo-bound athletes get the best training in a safe environment. Therefore, @IndiaSports has decided in tandem with @OfficialNRAI to base India's shooting squad for training in Croatia for 78 days from 10th May,' Sports Minister Kiren Rijiju tweeted on Saturday.
With India severely ravaged by the pandemic, Olympic-bound rifle shooter Anjum Moudgil had on Saturday expressed her relief at not training in the country.
'It is not alright for us to train here in India. I don't have a private training range for 50m rifle three positions. I have to either travel to Delhi or Pune which is not safe under these pandemic conditions,' she said at a virtual press conference arranged by the Sports Authority of India.
'I think Croatia must be better than India currently (in terms of the COVID-19 situation) and being with the team also gives you confidence. I don't see any problem from being away from home for three months,' Anjum added.
Post the ISSF World Cup, the team will fly to Tokyo for the Olympics, which opens on July 23.