Winning five medals in tough competition like Asian Games in huge: Rowing coach Ismail Baig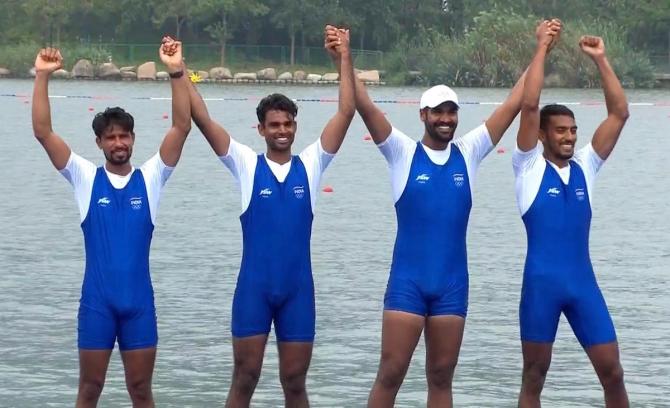 The yellow metal might have eluded them but Indian rowing team's head coach Ismail Baig couldn't be more happier after his wards finished the competition with an unprecedented five medals at the ongoing Asian Games, in Hangzhou on Monday.
While India won a gold and two bronze medal at the Jakarta edition in 2018, the rowers finished with two silver and three bronze medals in this edition.
For Baig, the focus is now to earn as many qualification slots possible for the Paris Olympics in the upcoming events.
Baig, who joined the Indian team as assistant coach in 1998 and has been the head coach in 2002, has guided the team to 23 medals at the continental showpiece over last two and half decades.
"We won five medals in such a tough competition, which is a big thing." Now we will be able to return to India with pride. I am feeling very relieved but the process of hard work will not stop now," Baig told PTI Bhasha from Hangzhou on Monday.
India sent the largest sailing contingent this year (33 athletes and ten support staff) which won two silver and three bronze medals.
While he is satisfied with the performance, as a coach he doesn't believe in resting on past laurels.
"A coach is never satisfied. I feel at least the colour of one medal could have been better."
"But all this happens in sports. We have worked hard for these games for five years and brought the biggest contingent but the players did not disappoint me," he added.
China was always going to be a tough hurdle for Indians, the coach said.
"It is not easy to compete with China in their own den but we competed hard and it was close. That's a big achievement. It is expected that the performance graph will be better in coming days. We will prepare further with hard work, change in timing module and new strategy."
The men's fours team narrowly missed out on silver by lagging behind China by a millisecond in the last twenty metres.
When asked about his future plans, the head coach said, "After so much hard work, it is necessary to give the players a break."
"Now we will prepare for the Paris Olympics, the qualifiers of which will probably be held in Korea in April next year. The competition is very tough but we have qualified every time since the 2000 Sydney Olympics and we will maintain this record."
Last time, India played the 'B' final of the double scull event (non-medal section) in Tokyo.
Baig said, "Last time in Tokyo, we played B final in double scull but this time our eyes will be on A final."
Expressing satisfaction over the preparations for the Asian Games, he said, "This time the preparations were solid."
The presence of Bajrang Takhar, who is an Asian Games gold medallist, as an assistant coach proved to be beneficial.
Baig said, "My disciples like Bajrang (medallist in 2006, 2010 and 2014) and Inder Pal (2002), who won gold medals in the Asian Games, had accompanied me as assistant coaches this time. This is a matter of great pride for me and it also brought a lot of convenience to the players."
All the rowers are from Indian Army and the discipline and work ethic inculcated from being a part of defence forces also was instrumental in getting success.
"Being from army background, all the players are very disciplined and do not slack off in practice. A coach's job becomes much easier with this."