The top Indian Olympic Association (IOA) delegates were busy giving finishing touches to their action plan as they geared up for the crucial meeting with the International Olympic Committee in Lausanne to draw a roadmap for India's return to the Olympic fold.
Most of the IOA delegates will leave for Lausanne on Monday night for the meeting on May 15 which is expected to start the process of getting the ban on India lifted.
- Why the IOC banned the Indian Olympic Association
Though IOA acting president V K Malhotra and IOC Member in India, Randhir Singh, have decided to boycott the meeting, IOA delegates are hopeful that they will be able to present a watertight case to get the ban lifted.
Malhotra and Randhir pulled out of the meeting a day after the IOC agreed to include Hockey India General Secretary Narinder Batra and Jharkhand Olympic Association R K Anand in the IOA delegation for the meeting, in addition to the four-member list submitted earlier.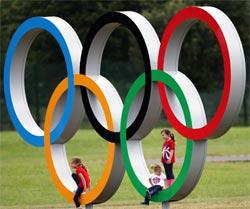 The meeting will also be attended by Sports Minister Jitendra Singh, Sports Secretary P K Deb, Beijing Olympics gold-medallist shooter Abhinav Bindra and Olympian sailor Malav Shroff.
"We are hopeful that a positive result will come out from the meeting. We want to remove all the misgivings and the wrong perceptions the IOC has about the IOA and the recent elections", Tarlochan Singh, one of the IOA delegates, said.
"Our aim is to get the ban lifted and revive Indian sports. We have prepared a detailed note to be presented at the meeting. We seek the support of the Sports Ministry in our endeavour," he said.
Tarlochan, S Reghunathan and N Ramachandran will leave for Lausanne on Monday night, while Batra, R K Anand, Sports Minister Jitendra Singh and Sports Secretary P K Deb have already reached the city.
The joint meeting will be from 9 am to 12 noon (local time). It would be followed by the Sports Ministry delegation making a courtesy call to IOC president Jacques Rogge between 12 to 12:45 pm followed by the IOA delegation, which would get just 15 minutes starting 12:45 with the IOC chief.
The IOC has already sent a message to the Swiss Embassy in New Delhi to expedite the visa formalities of all the visiting delegates.