The next two days are extremely crucial to locate top Indian mountaineer Malli Mastan Babu, who is lost in South America's Andes since March 24, say the handlers of his rescue operations while slamming the central government for not acting swiftly on the matter.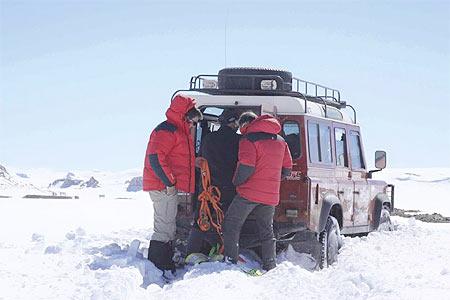 "The on-ground rescue operations started two days ago but private helicopter service will begin today for two days. Since the on ground operations have been hit by thick snow, we are hoping the aerial operations will be crucial in finding him," Saurabh Uboweja, who knows 40-year-old Babu since his IIM Calcutta days and is managing the rescue operations from here, said on Wednesday.
"The rescue operations are turning out to be tricky as Andes borders Argentina and Chile and we need to take permissions from both the governments, making the process more time consuming. We are also in touch with the Ministry of External Affairs here and the officials have assured help but it is a lot slower than required. I am sure the response would have been different and faster had Babu been an American or an Israeli citizen," said Delhi-based Uboweja, who is also an IIM Calcutta graduate.
The rescue operations in the treacherous terrain cost a fortune but Babu's friends from all around the world are contributing generously in hope that he pulls through eventually.
"We have managed to accumulate around $60,000 and sadly that is only enough for helicopter services for two days. That is why it is important for the Indian government to step in," said Uboweja.
"One recent positive development that we have come to know is that others who had gone to the expedition have come back. Babu has been going on expeditions for more than a decade. He is used to facing tough situations. At the same time, the concern is that there has no news of him since he went missing on March 24," he added.
In 2006, Babu had famously scaled seven summits of the world in 172 days. Besides being a 2000-2002 IIM pass out, he also has a degree from IIT Kharagpur. He hails from Nellore in Andhra region.
A Facebook page 'Rescue Malli Mastan Babu' has also been created to raise funds.
"Private helicopter started aerial search operation with Griselda Moreno on board. She is an expert mountaineer and she knows the region very well," the latest post of the page read.
Image: Officials prepare for rescue operations to save Indian mountaineer Malli Mastan Babu
Photograph: Rescue Malli Mastan Babu/Facebook
© Copyright 2021 PTI. All rights reserved. Republication or redistribution of PTI content, including by framing or similar means, is expressly prohibited without the prior written consent.