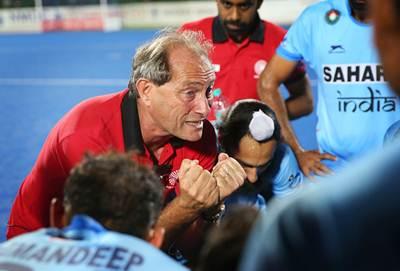 Fresh from a week's break post the Sultan Azlan Shah hockey tournament, India's senior hockey team was put through the rigours of a gruelling yo-yo test at the Sports Authority of India South Centre, in Bengaluru on Tuesday, to assess the players' fitness.
Speaking about the team's recent outing, chief coach Roelant Oltmans said: "Satisfied is a big word, and people who know me, know well that I can't feel satisfied so easily. But the performance of the team is always getting better. It is important to me, as a coach, that the level we touched remains consistent."
On the Azlan Shah final against Australia, which India lost 0-4, Oltmans felt the team's defensive tactics were good.
"Australia is the No. 1 side in the world, but, at the same time, we put forth an improved show at Azlan Shah. Our defence was well-structured," said the Dutchman.
"We had an experimental team at Azlan Shah. Shreejesh is the No. 1 goalkeeper in India and we didn't bring him to Malaysia to test the others. While I believe Harjot (Singh) and Akash (Chikte) could have done better, we are overall working to better goalkeeping with the seven other boys via special sessions."
With exactly 101 days left before their first match in the Rio Olympics, Oltmans's aim is to improve by another 10 per cent in every aspect of the game.
"If we manage to do that then we come close to being medal contender which is our core mission. We also play a few games such as Champions Trophy, Six-Nation Tournament, which will determine the best combination that plays at the Olympics. We also play friendlies with Spain, Belgium and New Zealand. This gives us opportunity to test like we did in Malaysia."
Image: Coach Roelant Oltmans chats with India's players during a break.
Photograph: Ian MacNicol/Getty images