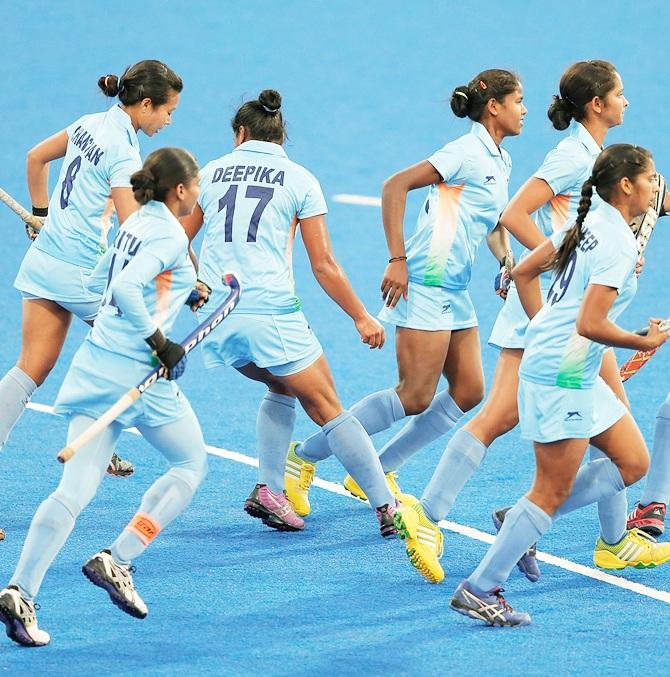 IMAGE: File photo of Indian women's hockey team. Photograph: Lintao Zhang/Getty Images.
It was a disappointing start for the Indian women's hockey team on their tour of the United States.
They lost 2-3 to the Champions Trophy bronze medalists in their opening match in Manheim on Tuesday.
Preeti Dubey (33rd minute) and Deepika (38th) scored for India in the third quarter, while Kathleen Sharkey (6th minute), Katie Bam (31st) and Kelsey Kolojejchick (48th) sounded the board for the US.
The teams played cautious hockey and the game's tone was set with both looking to hold fort and react through counter attacks.
In the sixth minute of the match, the US took the lead through Kathleen Sharkey.
In an otherwise timid first half, India's Vandana Katariya's attempt at goal was unsuccessful as the ball hit the post.
India came back tougher in the second quarter and made inroads into the US defence. They soon started playing strategically compact hockey, denying the US the ball in scoring areas. However, the teams went into the half-time break with the US leading 1-0.
The third quarter was hard-fought. With India looking to get back into the game, they started pushing forward in numbers.
The US, defending deep and working on the counter, were lucky when Katie Bam scored their second goal in the 31st minute via a penalty-corner.
India countered quickly and scored through Preeti Dubey in the 33rd minute.
Five minutes later Deepika put the Indians on level terms.
Going into the final quarter locked 2-2, Kelsey Kolojejchick clinched the issue for the US, scoring their third goal in the 48th minute.
Speaking after the match, India's chief coach Neil Hawgood said, "These matches are extremely crucial as our final preparations for the Rio Olympics. We had a neck-neck fight, the girls played well. We are going to analyse the loopholes and get better in our subsequent matches."
India's next match with US is on July 21.