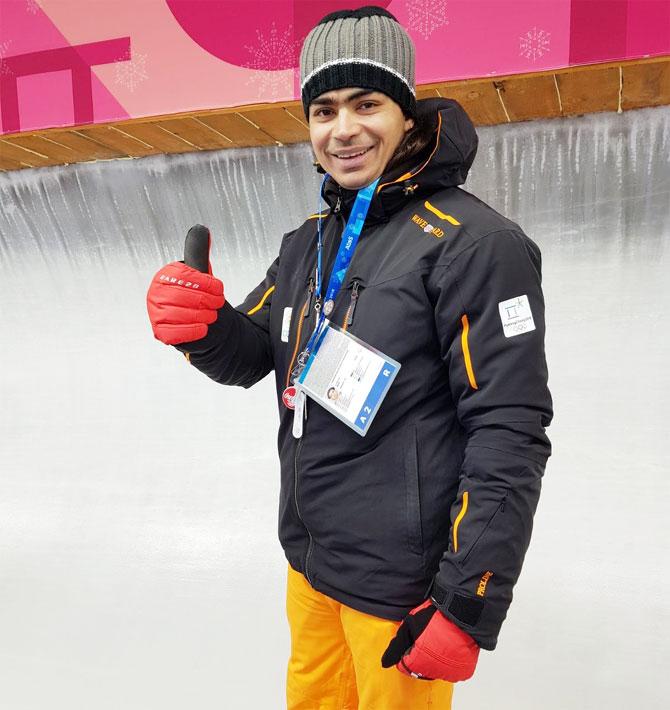 IMAGE: Indian luger Shiva Keshavan has begun his training drills. His event will start on Saturday, Feb 10. Photograph: Kind courtesy, Shiva Keshavan/Twitter
A day before the beginning of the Winter Olympics, the Indian flag was raised at the GamesVillage at a formal team welcome ceremony in Pyeongchang.
Luger Shiva Keshavan, Indian contingent's chef-de-mission Harjinder Singh and the mayor of the Games Village were present during the brief ceremony.
"The Indian contingent was formally welcomed at the GamesVillage on Thursday by the mayor of the GamesVillage. The tricolour was raised during the welcome ceremony. We are proud to represent the country," Harjinder told PTI.
"We have been looked after well by the organisers and we have no problems as such here except that it is very cold, below minus 20 degree celsius," he added.
Cross-country skier Jagdish Singh is, however, yet to arrive at this resort town of South Korea and is expected to join the team on Friday.
Jagdish was to arrive on February 4 along with Krshavan but his departure from India was delayed due to confusion over who will accompany him as coach.
"Jagdish was not there during the team welcome ceremony. He is arriving tomorrow. But Shiva has started his training drills," Harjinder, also the General Secretary of Ice Hockey Association of India, said.
The four heats of luge men's singleĄs events in which Keshavan will participate will take place on February 10 and 11.
The final result will come out with the total time earned from the four runs.
Jagdish will compete in the 15-km Nordic skiing freestyle event on February 16.
The Winter Olympic Games kick off with the Opening Ceremony on Friday.