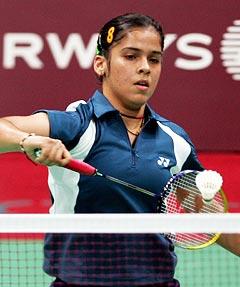 Saina Nehwal and Chetan Anand led the charge as India got off to a flying start in the Thomas and Uber Cup Asian Zone qualifiers, with both the men's and women's teams notching contrasting victories over Sri Lanka and Hong Kong respectively, in NakhonRatchasima, Thailand, on Monday.
While the Indian women's team beat Hong Kong 3-2, the men's team scripted a 5-0 whitewash over Sri Lanka in their tournament opener to take a step closer to qualifying for the main world event from the Asia Zone.
World number seven Saina pulled off a thrilling 14-21, 21-10, 23-21 victory over world number eight Zhou Mi in the first women's singles to give India's Uber cup campaign a head start.
Hong Kong pulled one back in the second singles when Yip Pui Yin beat Sayali Gokhale 21-13, 21-11.
National champion Trupti Murgunde, however, put India ahead again as she saw off Chan Tsz Ka 21-18, 21-16 in just 27 minutes.
India's best doubles player Jwala Gutta then teamed with Ashwini Ponnappa to seal the tie for India. The pair Zhou Mi and Tse Ying Suet 21-13, 21-16 in 21 minutes.
In the fifth match, Aparna Balan and Shruti Kurian went down to Chau Hoi Wah and Chan Tsz Ka 9-21, 13-21, but it didn't have any bearing on the result as India emerged victorious by a 3-2 margin in the qualifying Asia Zone tie.
In the Thomas Cup, it was Chetan who spearheaded the men's challenge as the lanky shuttler edged past Niluka Karunaratne 21-18, 19-21, 21-17 in 38 minutes to set the ball rolling.
Parupalli Kashyap then thrashed Dinuka Karunaratne 21-11, 21-10 in 19 minutes in the second singles to help India go 2-0 up, and with RMV Gurusaidutt beating Rajitha Dahanayake 21-13, 21-9 in the third singles, it was all over for the Lankans.
In the doubles matches, Sanave Thomas and Rupesh Kumar outlasted Karunaratne Niluka and Karunaratne Diluka 21-14, 18-21, 21-12, while V Diju and Dewalkar Akshay beat Chanaka Hasitha and Dahanayake Rajitha 21-11, 21-8.
Saina's match against Zhou was, however, the highlight of the day, as the Indian bounced back in style from a game down.
The Indian ace said it was an unexpected win as Hong Kong are a very strong team.
"It was an unexpected win but I am very happy we pulled it off. Everyone raised their game and contributed and it was a very important win overall," Saina said.
India will take on Japan on Tuesday and Saina said it will be another tough one for the team.
"Tomorrow's match is going to be tough and we will have to put up another good performance. The doubles and singles would be equally tough," she added.
Asked about her win over Zhou, whom she considers as one of her main rivals, the 20-year-old Saina said she just tried to pick on her rival's weakness.
"She is an experienced player, strong at the back and have good parallel shots but she was weak at net. In second and third game I made her run a lot and she became exhausted and started attacking. My defence was strong which frustrated her and she started hitting outside," she said.