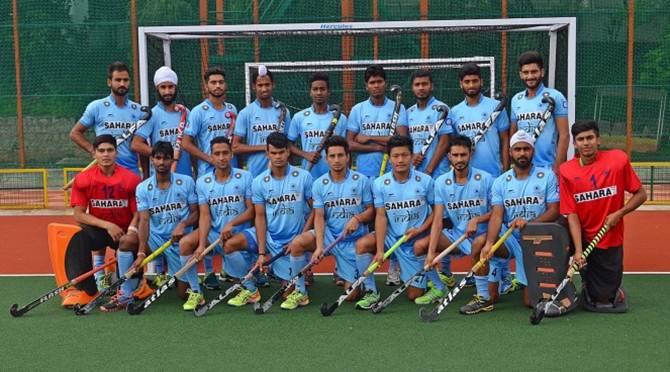 IMAGE: India's junior hockey squad for the EurAsia Cup and England tour. Photograph: Hockey India
The Indian men's junior hockey team maintained its unbeaten run on the tour of England, thrashing the hosts 7-1 at the Bisham Abbey Sports Centre in Marlow.
Ajay Yadav (27th, 43rd minute) and Varun Kumar (32nd, 35th) scored twice each for the Indians, while Manpreet (15th), Gurjant Singh (38th) and Simranjeet Singh (40th) accounted for the other goals.
England's lone strike came from the stick of Ed Holer.
Holding possession for sustained periods seemed to be India's tactical objective as they started off the game, drawing the England team out of their positions and forcing them to create large spaces in their formation.
India's relentless pressure resulted in the breakthrough when Manpreet found the net in the 15th minute.
England hit back almost immediately through a penalty-corner which was converted by Holer to level the scores.
But that was all England could manage as India took the lead in the second quarter when Gurjant's cross found Ajay inside the circle and he made no mistake to give India the lead in the 27th minute.
Soon after, Varun Kumar increased India's tally, scoring from a penalty-corner in the 32nd minute. He scored again just before half-time by converting another set-piece to ensure India went into the break leading 4-1.
India maintained their high tempo after the cross over and scored early via Gurjant before Simranjeet's brilliant individual goal gave the visitors a 6-1 lead.
India then earned two quick penalty-corners and Ajay scored his second goal off an indirect hit to make it 7-1.